Democracy & Development – Journal of West African Affairs
is a bi-annual (Rains and Harmattan editions), published by the Centre for Democracy & Development. The journal's broad focus areas are: 1. Conceptualising Democracy and Development in West Africa; 2. Practical problems that have inhibited democratic reform in the region; 3. Civic organisations and the new and innovative programmes, activities, and personalities driving the democracy and development agenda in the region; 4. Conflict and peace-building; 5. Public policy research (empirical and theoretical) on the democracy, security, and development nexus.
Democracy & Development: Journal of West African Affairs
is the only one of its kind entirely devoted to reporting and explaining democratic developments in the sub-region. It is read widely by researchers, journalists, opinion moulders, and academics.  For more information visit the CDD home page at
http://www.cddwestafrica.org/cdd/
This journal will be updated soon.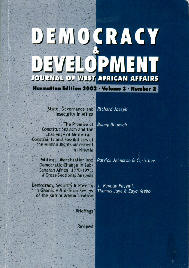 Vol 4, No 2 (2004)

Open Access

Subscription or Fee Access
Table of Contents
Articles
Democracy & Development: Journal of West African Affairs.   ISSN: 1465-0142