We publish original scientific studies, comments on currents health initiatives, project and work reports, personal experiences, reviews of current health initiatives, educational articles and paper commenting on clinical, social, political, economical and all other factors affecting health. We are particularly interested in receiving articles and comments reflecting the point of view and experience of professionals working in Africa related to the impact of currents public health initiatives on their daily routine. The Journal is available online here: www.panafrican-med-journal.com/
Call for Editorial Team Members:
The Pan African Medical Journal (PAMJ) is looking for enthusiastic clinicians to work as editors, in charge of the sections Case reports, Case series, Images in medicine and Clinical Quiz. In this volunteer position, the experts will be members of the editorial board and editorial team of the journal.
Requirements: Clinician, MD, specialist in internal medicine or any other clinical specialty; publication and academic experience; comfortable with information technologies; fluent French speaker, English speaker or bilingual (English and French); willing to contribute to the development of Open Access and medical publishing in Africa.
Remuneration: None, this is a volunteer position.
Duration: 1-2 years.
If interested, send your CV to editor@panafrican-med-journal.com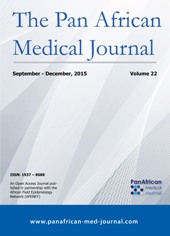 Vol 14, No 1 (2013)

Open Access

Subscription Access
Table of Contents
Articles
Etude des facteurs de risque du retard de croissance intra-utérin à Lubumbashi
EMAIL FREE FULL TEXT
DOWNLOAD FULL TEXT
Jules Ngwe Thaba Moyambe, Pierre Bernard, Faustin Khang'Mate, Albert Mwembo Tambwe A Nkoy, Faustin Chenge Mukalenge, Daudet Makanda, Eugene Twite, Arthur Munkana Ndudula, Cham Lubamba, Arnauld Kabulu Kadingi, Mutach Kayomb, Prosper Kalenga Muenze Kayamba
Factors associated with severe occupational injuries at mining company in Zimbabwe, 2010: a cross-sectional study
EMAIL FREE FULL TEXT
DOWNLOAD FULL TEXT
Chipo Chimamise, Notion Tafara Gombe, Notion Tafara Gombe, Mufuta Tshimanga, Mufuta Tshimanga, Addmore Chadambuka, Addmore Chadambuka, Gerald Shambira, Gerald Shambira, Anderson Chimusoro, Anderson Chimusoro
ISSN: 1937-8688