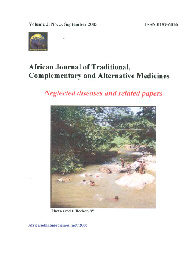 The African Journal of Traditional, Complementary and Alternative medicines (AJTCAM), a new broad-based journal, is founded on two key tenets: To publish exciting research in all areas of applied medicinal plants, Traditional medicines, Complementary Alternative Medicines, food and agricultural technologies, and promotion of healthy use of medicinal products. Secondly, to provide the most rapid turn-around time possible for reviewing and publishing, and to disseminate the articles freely for teaching and reference purposes. All articles published in AJTCAM are peer-reviewed. 
Other websites related to this journal are: http://journals.sfu.ca/africanem/index.php/ajtcam and Bioline: http://www.bioline.org.br/tc
Embargo Period: This journal has an embargo period of 12 months on its latest issue. All new publications are therefore subscription based for the first year after which the articles become open access and are free to download.
Vol 14, No 4S (2017)

Open Access

Subscription or Fee Access
Table of Contents
Articles
Whole-body vibration exercise is well tolerated in patients with duchenne muscular dystrophy: a systematic review
EMAIL FULL TEXT
DOWNLOAD FULL TEXT
Eloá Moreira-Marconi, Danubia C. Sá-Caputo, Carla F. Dionello, Eliane O. Guedes-Aguiar, Cintia R. Sousa-Gonçalves, Danielle S. Morel, Laisa L. Paineiras-Domingos, Patricia L. Souza, Cristiane R. Kütter, Rebeca G. Costa-Cavalcanti, Glenda Costa, Patricia C. Paiva, Claudia Figueiredo, Samuel Brandão-Sobrinho-Neto, Christina Stark, Marianne Unger, Mario Bernardo-Filho
2-10
Relevance of whole body vibration exercise in sport: a short review with soccer, diver and combat sport
EMAIL FULL TEXT
DOWNLOAD FULL TEXT
Danielle Soares Morel, Carla da Fontoura Dionello, Eloá Moreira-Marconi, Samuel Brandão- Sobrinho-Neto, Laisa Liane Paineiras-Domingos, Patrícia Lopes Souza, Danúbia da Cunha Sá-Caputo, Glenda Dias, Claudia Figueiredo, Roberto Carlos Resende Carmo, Patrícia de Castro Paiva, Cintia Renata Sousa-Gonçalves, Cristiane Ribeiro Kütter, Eliane de Oliveira Guedes-Aguiar, Ross Cloak, Mario Bernardo-Filho
19-27
Effects of whole body vibration intervention on handgrip strength of Brazilian healthy soldiers
EMAIL FULL TEXT
DOWNLOAD FULL TEXT
Danielle Soares Morel, Eloá Moreira-Marconi, Samuel Brandão Sobrinho Neto, Laisa Liane Paineiras Domingos, Patrícia Lopes de Souza, Danúbia da Cunha de Sá Caputo, Glenda Dias Costa, Cláudia Ferreira de Figueiredo, Roberto Carlos Resende Carmo, Patrícia de Castro de Paiva, Cintia Renata Sousa Gonçalves, Cristiane Ribeiro Kütter, Eliane de Oliveira Guedes de Aguiar, Mario Bernardo-Filho
28-32
Anti-viral effects of medicinal plants in the management of dengue: a systematic review
EMAIL FULL TEXT
DOWNLOAD FULL TEXT
Éric Heleno Freira Ferreira Frederico, André Luiz Bandeira Dionísio Cardoso, Eloá Moreira-Marconi, Danúbia da Cunha de Sá-Caputo, Carlos Alberto Sampaio Guimarães, Carla da Fontoura Dionello, Danielle Soares Morel, Laisa Liane Paineiras-Domingos, Patricia Lopes de Souza, Samuel Brandão-Sobrinho-Neto, Rafaelle Pacheco Carvalho-Lima, Eliane de Oliveira Guedes-Aguiar, Rebeca Graça Costa-Cavalcanti, Cristiane Ribeiro Kutter, Mario Bernardo-Filho
33-40
Potential effects of whole-body vibration exercises on blood flow kinetics of different populations: a systematic review with a suitable approach
EMAIL FULL TEXT
DOWNLOAD FULL TEXT
Danúbia Sá-Caputo, Laisa Paineiras-Domingos, Rafaelle Carvalho-Lima, Glenda Dias-Costa, Patrícia de Castro de Paiva, Claudia Figueiredo de Azeredo, Roberto Carlos Resende Carmo, Carla F. Dionello, Eloá Moreira-Marconi, Éric Heleno F.F. Frederico, Cintia Renata Sousa-Gonçalves, Danielle S. Morel, Dulciane N. Paiva, Núbia C.P. Avelar, Ana C. Lacerda, Carlos E.V. Magalhães, Leonardo S. Castro, Giuseppe A. Presta, Severo de Paoli, Borja Sañudo, Mario Bernardo-Filho
41-51
Effect of mechanical vibration generated in oscillating/vibratory platform on the concentration of plasma biomarkers and on the weight in rats
EMAIL FULL TEXT
DOWNLOAD FULL TEXT
Éric Heleno Freire Ferreira Frederico, Danúbia da Cunha de Sá-Caputo, Eloá Moreira-Marconi, Carlos Alberto Sampaio Guimarães, André Luiz Bandeira Dionísio Cardoso, Carla da Fontoura Dionello, Danielle Soares Morel, Cintia Renata Sousa-Gonçalves, Laisa Liana Paineiras-Domingos, Rebeca Graça Costa Cavalcanti, Nasser Ribeiro Asad, Pedro Jesus Marin, Mario Bernardo-Filho
52-58
Quality of life of patients with metabolic syndrome is improved after whole body vibration exercises
EMAIL FULL TEXT
DOWNLOAD FULL TEXT
Rafaelle Pacheco Carvalho-Lima, Danúbia C. Sá-Caputo, Eloá Moreira-Marconi, Carla Dionello, Laisa Liane Paineiras-Domingos, Cintia Renata Sousa-Gonçalves, Daniele Soares Morel, Eric Heleno Frederico, Mario F. Neves, Ricardo Oliveira, Wille Oigman, Pedro J. Marin, Dulciane N. Paiva, Mario Bernardo-Filho
59-65
ISSN: 0189-6016