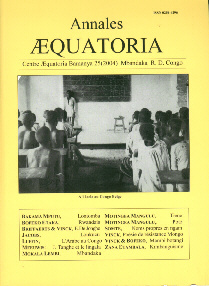 As of 2010 Annales Aequatoria has ceased publication.
Cette revue sort une fois par année (environ 600 pages par numéro), publiant des articles en français et en anglais (d'autres langues peuvent également êtres acceptées) et encourage des études sur les langues, les littératures, les sociétés et l'histoire d'Afrique Centrale en général, et sur les Mongo en particulier.
The Journal covers a wide range of subjects; African Linguistics, Cultural Anthropology, Literature in Bantu languages, History, Archaeology etc.
Former issues of Aequatoria (1937-1962) and Annales Aequatoria (1980-1999) are available as open access on the folowing url:
http://www.aequatoria.be/04engels/020publications_en/0237ann_texte_integral_en.htm
Please note, this journal is no longer publishing.
Journal Identifiers

eISSN: 0254-4296