The AJOL site will be undergoing major upgrade over the next couple of days.
During this period there will temporarily be some restrictions to the available functionality.
Users will not be able to register or log in during this period.
downloads of fullt text (PDF) subscription based journal articles will NOT be available
full text (PDF) downloads of Open Access journal articles will be available as always
We apologise for any inconvenience caused. Please check back soon, as we will revert to usual policy as soon as possible.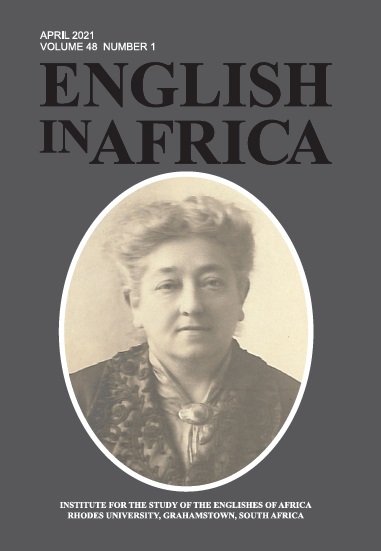 English in Africa was founded in 1974 to provide a forum for the study of African literature and English as a language of Africa. The Editor invites contributions, including unsolicited reviews, on all aspects of English writing and the English language in Africa, including oral traditions. English in Africa is listed in the Journal of Commonwealth Literature Annual Bibliography, the Modern Language Association MLA International Bibliography, Institute for Scientific Information Arts and Humanities Citation Index, and accredited by the South African Department of Education. 
The journal has its own website at  
http://www.ru.ac.za/isea/publications/journals/englishinafrica/
It is also indexed on EBSCO, by GalePublishing and by SABINET Online. EiA is archived by JSTOR and SABINET Gateway
Vol 46, No 3 (2019)

Open Access

Subscription or Fee Access
Table of Contents
Articles
ISSN: 0376-8902