PHYTOCHEMICAL COMPOSITION AND IN VITRO ANTIBACTERIAL ACTIVITIES OF MILLETTIA CHRYSOPHYLLA AND MILLETTIA ZECHIANA
Mary Anti Chama (PhD)

Department of Chemistry, University of Ghana

Beverly Egyir (PhD)

Bacteriology Department, Noguchi Memorial Institute for Medical Research, University of Ghana

Kofi Baffour-Awuah Owusu

Senior Research Associate at the Noguchi Memorial Institute for Medical Research, Biomedical research Center, University of Ghana
Keywords:
phytochemicals, Methicillin-Resistant Staphylococcus aureus (MRSA), bacteria, Millettia zechiana, Millettia chrysophylla
Abstract
Millettia chrysophylla (MC) and Millettia zechiana (MZ) are two medicinal plants distributed in Africa. MZ is used traditionally to treat infectious diseases. Current literature survey suggests no scientific studies on MC and phytochemical studies on MZ were scanty with no biological activities.  In vitro antibacterial activities of the ethanol extracts of the leaves (L), stems (S), and roots (R) for both plants, and flowers (F) and twigs (T) for MZ were tested against eight laboratory bacteria strains and 28 clinical isolates of Methicillin-Resistant Staphylococcus aureus (MRSA). The chemical profile of the extracts was obtained by Gas Chromatography Mass Spectrometry (GCMS) whiles characterisation of the alkaloid, flavonoid, and tannin contents were also determined. MCS extract showed a strong and broad activity against S. epidermidis (8.79 μg/mL), E. coli (3.9 μg/mL), S. enteritidis (5.11 μg/mL) and B. cereus (5.33 μg/mL).  Broad bactericidal activity against MRSA strains: MR21, MR4 and MR19 with respective IC50 values of 72.30, 86.45 and 97.76 µg/mL were showed by MCL extract. The major components identified from the GCMS analysis included 17-octadecenoic acid (39.46%), 17-octadecynoic acid (27.90%) n-decanoic acid (27.88%), (Z, Z)-9,12-octadecadienoic acid (27.02%), (Z)-18-octadec-9-enolide (24.46%), and n-hexadecanoic acid (20.87%). MCL indicated 6.97±0.62 mg CA/g, 3.75 ± 0.12 mg TA/g, and 3.58 ± 0.18 mg RU/g for the respective contents of alkaloids, tannins, and flavonoids. These findings have given insights into the phytochemicals of M. chrysophylla and the antibacterial activities of leaves, stems and roots of M. chrysophylla and the twigs of M. zechiana for further drug discovery research.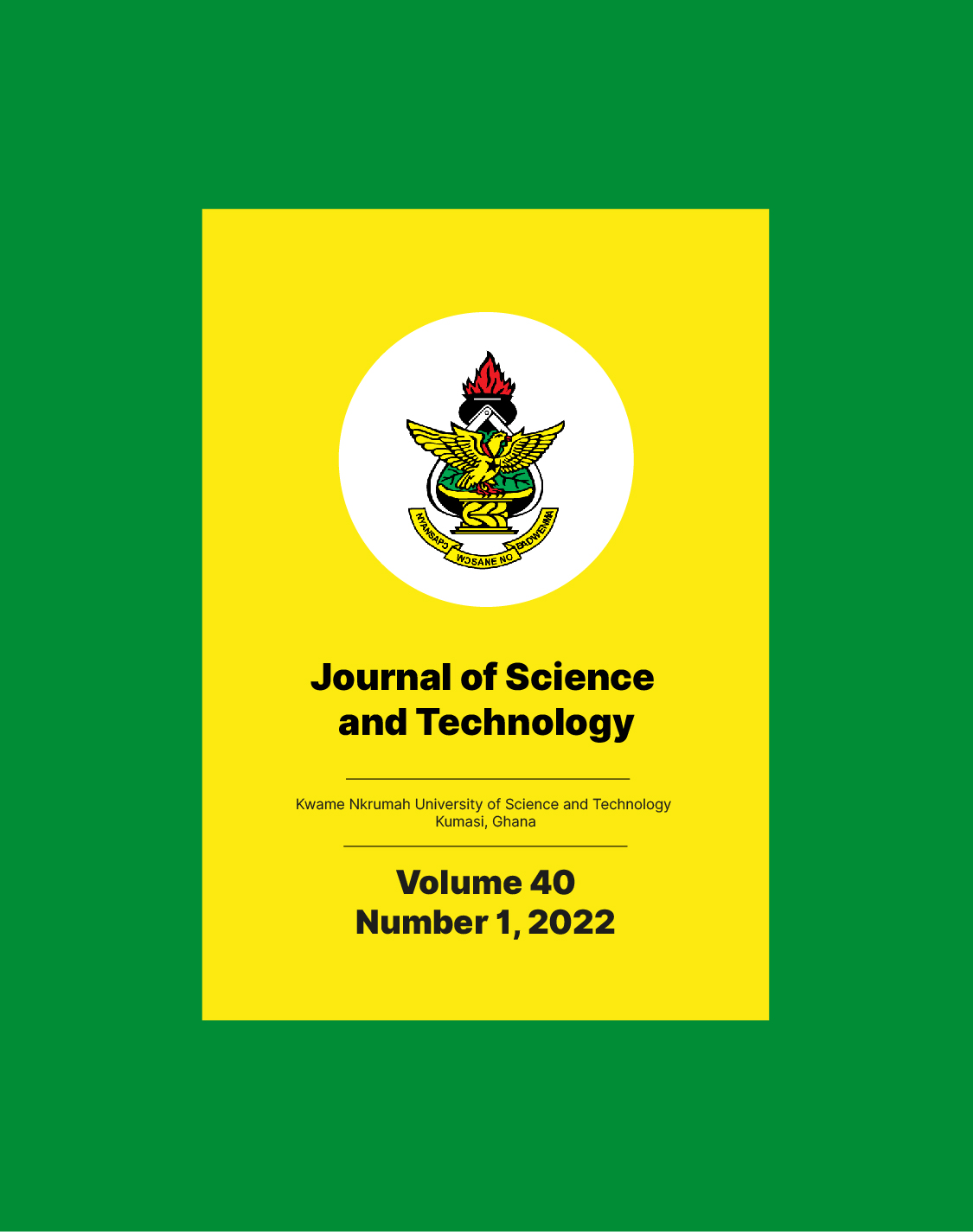 Copyright of the journal's content belongs to Kwame Nkrumah University of Science and Technology, Kumasi, Ghana.
The copyright of a submitted article is only transferred to the publishers if and when the article is accepted for publication. All rights reserved. No part of this publication may be reproduced, stored in a retrieval system or transmitted in  any form or by any means, electronic, electrostatic, mechanical, photocopying, recording or otherwise without the prior written permission of the publishers.