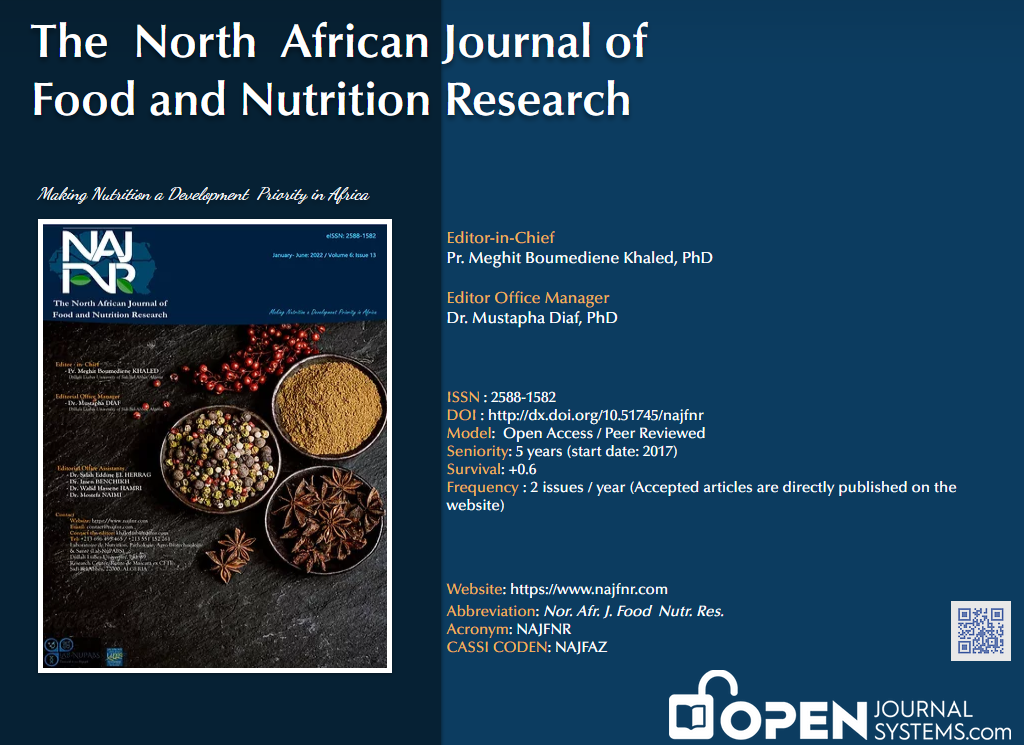 The North African Journal of Food and Nutrition Research (NAJFNR) ISSN : 2588-1582 is an international, peer-reviewed, open access, online journal with no publication charges, costs or fees. The journal is committed to the rapid publication of the latest research and studies in all fields of human nutrition and food sciences.  The NAJFNR is dedicated to publishing innovative and high-quality papers providing a better understanding of the advances in nutrition fields such as original research, review, short communication, correspondence, case reports, hypothesis formation, expert opinion, and commentaries. The NAJFNR publishes papers that address human, animal, cellular, or molecular nutrition and food science.
The primary purpose of NAJFNR is to act as an advancing professional knowledge usable by researchers and practitioners across the range of research and practice issues such as:
Nutritional Science (NS): study of food, nutrients, and other food substances, the intake and biochemical processing of food substances, their relationship to health and disease, and the application of this information to policy and programs.
Medical Nutrition Therapy (MNT): evidence-based medical approach to treating certain chronic conditions through the use of an individually-tailored nutrition plan. This nutrition plan aims to benefit the patient's own health and reduce health-care costs.
Public Health Nutrition (PHN): is the application of nutrition and physical activity to the promotion of good health, the primary prevention of diet-related illness of groups, communities, and populations (not individuals) through health services, program development, and policy advocacy.
Food Science and Biotechnology (FSB): is the study of the physical, biological, and chemical makeup of food; the causes of food deterioration; and the concepts underlying food processing. Some disciplines can be included such as: chemistry, engineering, microbiology, and nutrition to the study of food to improve the safety, nutrition, wholesomeness and availability of food.
The journal also seeks to increase consumer awareness of the interrelationship between nutrition, physical activity and lifestyle to ameliorate health across the lifespan and to determine how health policies can be improved by taking a more nutrition-focused approach.
We welcome manuscripts describing observational and interventional studies as well as basic scientific reports on the topics of food sciences, diets, metabolism, nutrients, clinical nutrition, social sciences and health economics related to nutrition, eating behavior and disorders, and nutrition policies. Physical activity partnered with nutrition education; and strategies to reduce food insecurity are also valued.
The journal hosts also the proceedings of relevant congresses and presents shorter notices focused on the original character of the Mediterranean and North African nutritional civilization. In addition, this journal is intended as a platform for scientific debate and knowledge-sharing among students professionals and researchers, and between them and the broader scientific community, and finally as a tool making nutrition a development priority in Africa through enhancing scientific cooperation.
The average time between submission and the final decision is 45 days. The time between acceptance and online publication is less than 15 days.
Papers with a major focus on traditional medicine will not be accepted.
​Direct rejection: Submitted manuscripts can be rejected without given comments after initial review by an editor if the manuscripts are considered inappropriate or of insufficient importance for publication in the NAJFNR. Submitted manuscripts will not be reviewed if they fail to match the aims and scope of the journal, or if they do not conform to standard English usage and do not meet the formatting requirements.
Specific topics covered in the journal include: