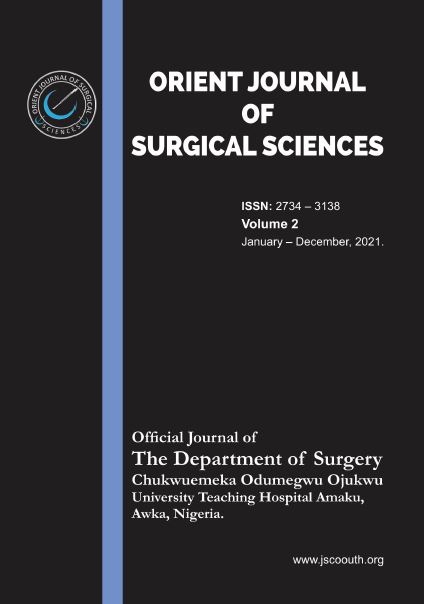 The Orient Journal of Surgical Sciences was founded on 27th April 2019. It is published by the Department of Surgery at the Chukwuemeka Odumegwu Ojukwu University Teaching Hospital (COOUTH) in Awka, Anambra State, Nigeria.


The Journal provides a platform for local and international clinicians to publish clinical studies, research articles, ethical issues and other topics pertinent to general surgery, surgical sub-specialties, Anaesthesia and Radiology.


We accept original reports, review articles, case reports, short communications and letters to the editor within the specialties under coverage. The OJSS observes rigorous peer-review process and undertakes to publish only those manuscripts that meet international standards. We aim to achieve a maximum period of twenty-eight days from submission to decision to publish or decline.
Journal Identifiers

eISSN: 2971-625X
print ISSN: 2734-3138