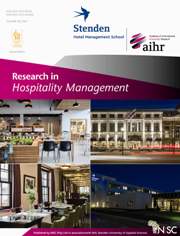 Research in Hospitality Management is a peer-reviewed journal publishing papers that make an original contribution to the understanding of hospitality and hospitality management in a global context. It has a strong focus on issues which have an immediate practical application – giving the journal relevance to academics as well as industry practitioners.
The journal includes articles from the disciplines of sociology, demography, business science, culinary sciences, economics, psychology, anthropology, philosophy, media, cultural studies, law, education, leisure science and tourism. Papers relating to consumer behaviour, human resources management, financial management, marketing, strategic management, economics, business forecasting, information technology and development, national and international legislation will be considered for publication. Articles covering social theory and the history and politics of the hospitality industry are welcome.
As of 2016, this journal is open access under a Creative Commons Attribution Licence (CC BY 4.0). Content published prior to 2016 is under copyright by the publisher, NISC (Pty) Ltd.
Vol 7, No 1 (2017)

Open Access

Subscription or Fee Access
Table of Contents
Articles
ISSN: 2224-3534