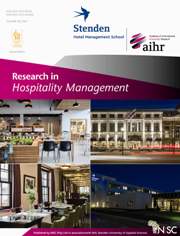 Research in Hospitality Management (RHM) is a peer-reviewed journal publishing articles that make an original contribution to the
understanding of hospitality and to the theory and practice of international hospitality management.
The journal focusses on three main areas:
(1) "Hospitality (Management) Studies" includes articles related to the study of andthe study for hospitality. The study of hospitality refers to studies about the essence and ethics of hospitality from a social sciencesperspective, while the study for hospitality refers to a more disciplinary approach according to the quintessential managerial areas of Finance, Human Resources, Operations, Marketing & Sales, and Technology;
(2) "Hospitality Management Education" is devoted to articles about curriculum content and delivery methods for training and educating hospitality managers. Considering the size and scope of the hospitality industry, and the number of staff and students involved, studies on efficient, effective, and innovative ways of developing hospitality competencies are considered indispensable; (3) "Student Research Projects" allows excellent student work to be published. Student work can relate to excellent BA dissertations or MA theses.
RHM also accommodates short communications, working papers, book reviews, and discussion papers.
More information for this journal can be found here.