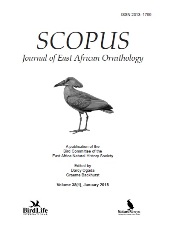 Scopus: Journal of East African Ornithology has been published since 1977 by the Bird Committee of the East Africa Natural History Society. Originally titled Scopus, the addition of Journal of East African Ornithology began with our January 2018 issue. The journal is published Open Access twice a year, typically in January and July. Authors retain copyright and their work is licensed under the Creative Commons Attribution 4.0 International License. Our copyright and licensing agreement only applies from January 2018 onwards, and does not apply to previously published issues. Users have the right to read, download, copy, distribute, print, search, or link to the full texts of these articles.
Scopus: Journal of East African Ornithology welcomes original contributions— which have not been published elsewhere— on all aspects of the ornithology of eastern Africa, encompassing the area from Sudan, Ethiopia and the Horn of Africa countries south to Mozambique, and including the Malagasy region.
This journal does not charge Article Processing Charges or submission charges.