Pelagic and demersal fish diversity of the Saya de Malha and Nazareth Banks, Mascarene Plateau
Luvna Caussy

Albion Fisheries Research Centre

Rodney Melanie

Seychelles Fishing Authority

Andrew Souffre

Seychelles Fishing Authority

Stephanie Hollanda

Seychelles Fishing Authority

Magne Olsen

Institute of Marine Research

Gilberte Gendron

Seychelles National Parks Authority

Sundy Ramah

Albion Fisheries Research Centre
Keywords:
fish diversity, Saya de Malha Bank, Nazareth Bank, trawls, VAMS, basket traps
Abstract
The Saya de Malha (SMB) and Nazareth Banks (NB) are the main offshore locations where fishing activities are carried out by the Republic of Mauritius, targeting mainly shallow water Lethrinids, deep-water snappers and groupers. A multi-disciplinary survey was carried out on the two banks in May 2018 on-board the R/V Dr. Fridtjof Nansen with the objective of studying the diversity of fish on both banks using pelagic trawls, bottom trawls, basket traps and video using a Remotely Operated Vehicle (ROV). Analysis of data showed that the main fish family recorded in the pelagic waters of SMB, using pelagic trawl, was Myctophidae while the bottom trawls on NB showed the presence of fishes from the families Gobiidae, Triglidae and Synodontidae, mainly at depths between 200 and 300 m. The ROV video analysis highlighted principally the presence of demersal fishes of the family Lethrinidae and other reef-associated and commercial families recorded between 20 and 50 m. The main catch from the basket traps set at the SMB was Lethrinus mahsena, caught at a depth of 21 m. While previous studies focussed mainly on commercial fishes, this study brings forth new information on other fish families, contributing to the knowledge of the fish community that exists at these two banks.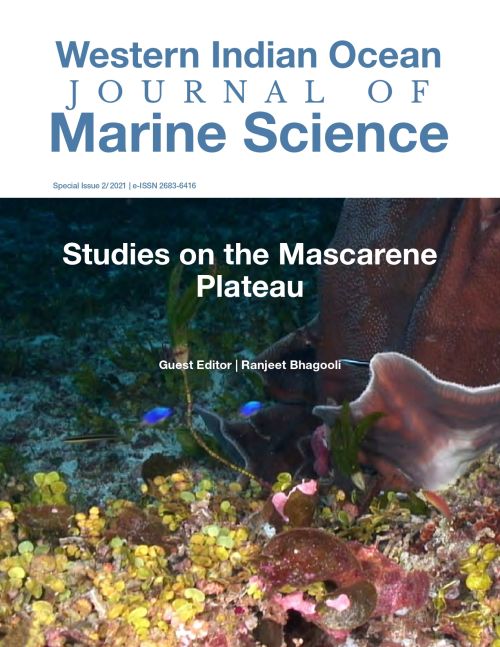 Copyright is owned by the journal. The articles are open access articles distributed under the terms and conditions of the Creative Commons Attribution (CC BY 4.0) licence.