Zoonotic helminths and protozoa infesting commercially important marine crustaceans along the Kenyan coast
Valarie N. Silali

Department of Zoological Sciences, Kenyatta University, Nairobi, Kenya

https://orcid.org/0000-0002-2724-2136

Fredrick C. Maloba

Department of Zoological Sciences, Kenyatta University, Nairobi, Kenya

https://orcid.org/0000-0002-8803-6299

Thomas K. Mkare

Centre for Aquatic Genomics, Forensics and Bioinformatics, Kenya Marine and Fisheries Research Institute, Mombasa, Kenya

https://orcid.org/0000-0003-0762-0563
Keywords:
crustaceans, Kenyan coast, gastro-intestinal parasites, zoonotic parasites, parasite intensity
Abstract
Marine crustaceans support important small-scale fisheries along the Kenyan coast. Annual catches have been declining, with climate change, pollution, overfishing and parasites proposed as causes. It is unknown whether parasite intensity and diversity change between locations, sea - sons and host species. The current study aimed to address this by analysing gastro-intestinal (GIT) parasites of two prawn species, Penaeus indicus and Metapenaeus monoceros, and two lobster species, Panulirus ornatus and P. homarus. A total of 240 prawns and 240 lobsters were collected from Malindi, Kilifi and Gazi, and intestinal contents microscopically examined for the presence of parasites. Observed parasites included Schistosoma mansoni (mean egg per gram (EPG) of 112.33), Strongyloides spp. (mean EPG of 94.80), Hymenolepis diminuta (mean EPG of 104.55), and Hymenolepis nana (mean EPG of 104.85). The Protozoa Entamoeba coli (mean EPG of 75.76) was observed. There was a significant difference in parasite intensity among host species (p < 0.00) as well as intensity between seasons. There was no significant difference in intensity among landing sites, except in E. coli (p = 0.05). Parasite diversity was not dependent on sites or seasons but varied with host species. The current study found that all the GIT parasites identified are zoonotic and could present a human health threat.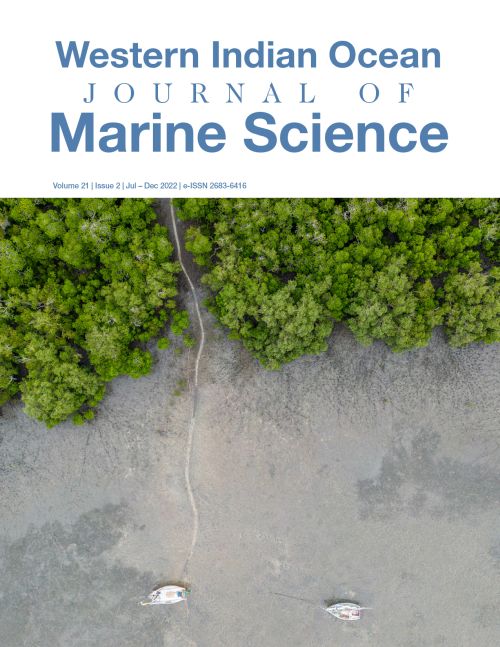 Copyright (c) 2022 Western Indian Ocean Journal of Marine Science
This work is licensed under a Creative Commons Attribution 4.0 International License.
Copyright is owned by the journal. The articles are open access articles distributed under the terms and conditions of the Creative Commons Attribution (CC BY 4.0) licence.