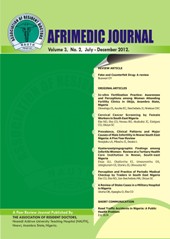 The Afrimedic Journal (AJ) is a semi-annual, multidisciplinary medical journal published by the Association of Resident Doctors, Nnamdi Azikiwe University Teaching Hospital, Nnewi, Anambra State, Nigeria. The purpose of this journal is to promote clinical and academic excellence in basic and clinical medical sciences as well as dentistry.
We consider any original work that advances or illuminates medical science or practice. Contributions may be in the form of review articles, original articles, case reports, short communications and letters to the editor. The AJ will also publish articles on socio-economic, political and legal matters related to medical practice; conference and workshop reports and medical news.
The journal allows free access to its contents. Therefore, authors are required to pay a token charge for processing and publication of manuscripts including color reproduction of photographs. All submissions are subject to peer review by the Editorial Board and by expert reviewers in appropriate specialties.
Journal Identifiers

eISSN:
print ISSN: 2141-162X