AJOL thanks all our partners!
All of AJOL's partner journals
Accepted after JPPS assessment, all of the African-published journals from throughout the continent that are on the AJOL platform. These are AJOL's main partners (the AJOL family), and collectively, the hundreds of journals of many different types form a Pan-African network of collaboration and shared aspirations to showcase quality research outputs and advance Africa's equitable role in global research.
African Journal Partnership Program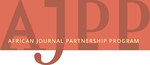 A founding premise of the African Journal Partnership Program (AJPP) is that valuable research being carried out in African countries is often not available to a wider international audience. AJPP partners African health and medical journals with mentor journals published in the United States and the United Kingdom with the goal of strengthening them enough to be accepted into MEDLINE and other scholarly indexes, resulting in wider availability of African health and medical research to the world.
DOAJ

DOAJ (Directory of Open Access Journals) works to build an equitable and diverse scholarly ecosystem where trusted research can be accessed globally without barriers.
EIFL

EIFL (Electronic Information for Libraries) runs expertly-designed programmes with libraries and library consortia to promote access to knowledge for education, learning, research and sustainable community development globally.
INASP
AJOL continues to work closely with our founding organisation, INASP. INASP's work focuses on communication, knowledge and networks, with particular emphasis on the needs of developing and emerging countries. AJOL would like to express its appreciation for the long-term support from RDMFA, Sida, DfiD and Norad via funding for INASP's Programme for the Enhancement of Research Information. INASP and AJOL also share regular, supportive and informative discussions on how best to jointly serve the scholarly community in Africa. Based on the success of the AJOL model, INASP have seeded several other "jol's" in South East Asia.
OASPA

OASPA, the Open Access Scholarly Publishing Association, works to develop and spread solutions that encourage and enable open access, creating a diverse, vibrant, and healthy open access community.
Public Knowledge Project

The Public Knowledge Project (PKP) is a research and development initiative based in Canada and directed toward improving the quality of academic research through the development of innovative online publishing and knowledge-sharing environments. AJOL works with them on the software that powers our service.
Research4Life

Research4Life provides institutions in lower income countries with online access to academic and professional peer-reviewed content, aiming to improve teaching, research and policy-making in health, agriculture, and the environment as well as other life, physical and social sciences.
SPARC

SPARC Africa (Strategic Purchasing Africa Resource Centre) works to strengthen strategic purchasing expertise in sub-Saharan Africa and move countries closer to universal health coverage.
WWS Alliance

AJOL was a founding Member of the WWS Alliance, the multilateral governance structure for WorldWideScience.org, which is a global science gateway connecting you to national and international scientific databases and portals. WorldWideScience accelerates scientific discovery and progress by providing one-stop searching of global science sources.