Variations in community perceptions of ecosystem services within the Tana River estuary, Kenya: Implications for ocean governance
Keywords:
land use, land cover (LULC), local knowledge, socio-cultural values, rural communities, socio-ecological systems, ecosystem services evaluation
Abstract
Coastal communities in the Tana estuary, Kenya, rely on a variety of economic sectors linked to ecosystem services, including small-scale fisheries (SSF), commercial prawn fisheries, and tourism. Despite its environmental and social importance, the estuary has been negatively impacted by overexploitation, pollution, and climate change. As a result, developing integrated management approaches for this area is a priority. The integrated approach to ecosystem services (ES) evaluation has widespread support because it emphasizes people's views of ecological value to human well-being and aims to provide a solution to the rapid depletion of our planet's natural resources. This study applied mixed methods to understand the perspectives of the communities on ES. It was hypothesized that perceptions of ES differ across communities with different socioeconomic characteristics, and this hypothesis was tested in two communities (Ozi and Kipini) that share the same ecosystem but have different socioeconomic characteristics. Kipini is an area near the ocean, whereas Ozi is a rural area further upstream. Differences were noted in the valuation of cultural services, while there were similarities in provisioning and regulating services. Mangroves, other trees, and river systems were considered to have higher ES provision than the ocean, floodplains, and settlement areas. The Ozi community ranked the ocean higher than the Kipini community, even though Ozi was located further upstream from the ocean; consequently, the perception that communities benefit more from resources that they are close to could be false. The relevance of using social ES identification to determine the distribution of benefits from coastal ES is highlighted in this study and will be beneficial for informing decision-making and developing all-inclusive governance structures.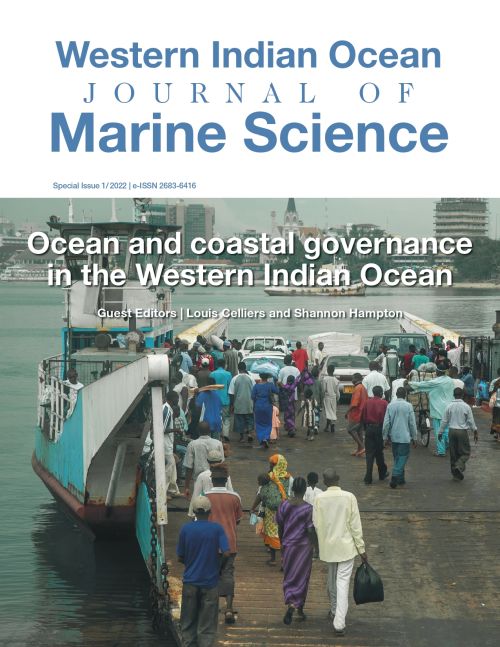 Copyright (c) 2022 Western Indian Ocean Journal of Marine Science
This work is licensed under a Creative Commons Attribution 4.0 International License.
Copyright is owned by the journal. The articles are open access articles distributed under the terms and conditions of the Creative Commons Attribution (CC BY 4.0) licence.