The South African Journal of Philosophy publishes original contributions (articles, discussions of articles previously published, review articles and book reviews) within any field of philosophy. The South African Journal of Philosophy is indexed in The Philosopher's Index, Current Contents/Arts & Humanities, IBZ & IBR, Bio Sciences Information Service, Revue Philosophique de Louvain, Repertoire bibliographique de la Philosophie, Tijdschrift voor Filosofie bibliografisch reperiorium.
Other websites related to this journal: http://www.sajp.za.net/
This journal has an embargo period on its published work of 2 years. Therefore anything published 2 or more years ago is available for free download online.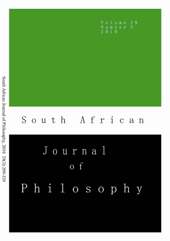 Vol 33, No 3 (2014)

Open Access

Subscription or Fee Access
Table of Contents
Articles
South African Journal of Philosophy.   ISSN: 0258 0136