The official organ of the Musicological Society of Southern Africa,
South African Music Studies
, previously, the
South African Journal of Musicology
(SAMUS) prioritises, but does not restrict itself to, the publication of research on music in South Africa. We welcome articles in the fields of musicology and ethnomusicology, as well as music therapy and music education.
Other websites related to this journal: http://journals.sabinet.co.za.
More information can be found on http://www.sasrim.ac.za This journal is also indexed in RILM Abstracts, The Music Index.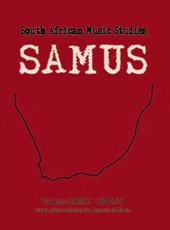 Vol 32, No 1 (2012)

Open Access

Subscription Access
Table of Contents
Articles
South African Journal of Musicology.   ISSN: 0258-509X