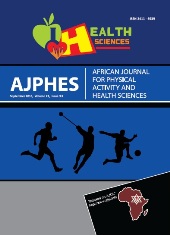 The African Journal for Physical Activity and Health Sciences (AJPHES) is a peer-reviewed journal established to:
i) provide a forum for health specialists, researchers in physical activity, professionals in human movement studies as well as other sport-related professionals in Africa, the opportunity to report their research findings based on African settings and experiences, and also to exchange ideas among themselves. Research-related contributions by specialists in physical activity and health sciences from other continents are also welcome.
ii) afford the professionals and other interested individuals in these disciplines the opportunity to learn more about the practice of the disciplines in different parts of the continent.
iii) create an awareness in the rest of the world about the professional practice in the disciplines in Africa.
AJPHES publishes research papers that contribute to knowledge and practice, and also develops theory either as new information, reviews, confirmation of previous findings, application of new teaching/coaching techniques and research notes. Letters to the editor relating to the materials previously published in AJPHES could be submitted within 3 months after publication of the article in question. Such letter will be referred to the corresponding author and both the letter and response will be published concurrently in a subsequent issue of the journal.
Manuscripts are considered for publication in AJPHES based on the understanding that they have not been published or submitted for publication in any other journal. In submitting papers for publication, corresponding authors should make such declarations. Where part of a paper has been published or presented at congresses, seminars or symposia, reference to that publication should be made in the acknowledgement section of the manuscript.
AJPHES is published quarterly, i.e. in March, June, September and December.
Supplements/Special editions are also published periodically.