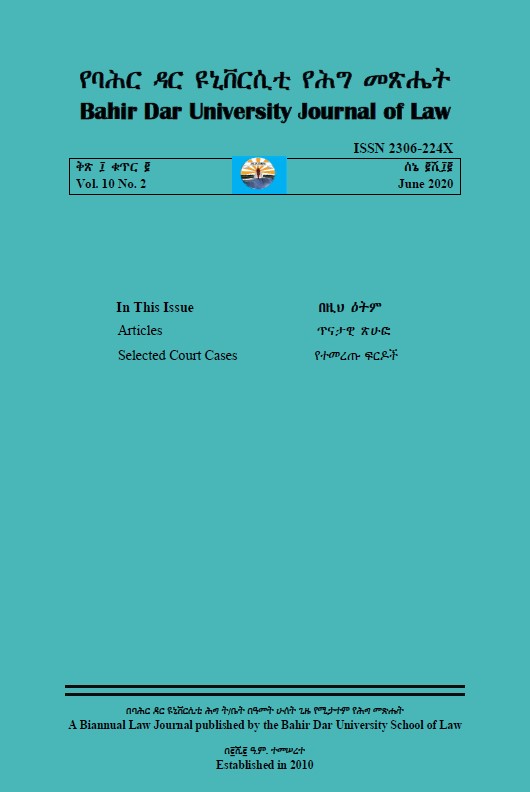 Bahir Dar University Journal of Law is a bi-annual peer-reviewed journal of law that has been published by Bahir Dar University, School of Law since May 2010. As per the approved Editorial Policy, the Journal has its own Advisory Board, Editor-in-Chief and Editorial Committee. The Editorial Policy of the Journal sets, inter alia, Guideline for authors, Manuscript Review Criteria and Review Instructions.
The Journal is meant to serve as a forum for the scholar to contribute to the development of the legal jurisprudence and legal analysis of Ethiopian law as well as contemporary legal issues that bring wider impact on regional and global perspectives. Accordingly, legal scholars, legal practitioners, judges and prosecutors and any legal professionals who would like to contribute their own share to the betterment of the Ethiopian legal system in particular and the legal profession in general are all invited. The manuscript submissions may be scholarly articles, notes/reflections, case comments and book reviews.

Any manuscript which meets the preliminary assessment criteria shall be referred to anonymous internal and external assessors for detailed and critical review. Those which succeed attaining the highest assessment marks for their intellectual maturity and their contributions for the legal profession and the administration of justice in general are published.
The Bahir Dar University Journal of Law is here to serve as a forum to make meaningful contributions to our society and to the world at large.