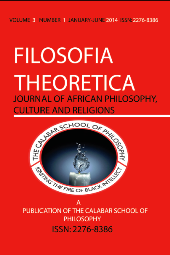 Filosofia Theoretica Journal of African Philosophy, Culture and Religions, a publication of the Calabar School of Philosophy (CSP) is dedicated to the publication of astute academic research in African Philosophy, Culture, History, Art, Literature, Science, Education and Religions, etc. The articles submitted to Filosofia Theoretica must be presented in defensive style i.e. defending or promoting some theses and review of books are also covered within the standard range of this journal. The journal has a vision to put Africa and African intellectuals on the global map. However, this does not imply that non-Africans cannot submit articles for consideration insofar as the title fall within the focus of the journal.
Usage Policy: For student based personal use or general academic research only. Not to be used for commercial purposes without the prior notice of the publishers.
The second website related to the journal is www.csp.unical.edu.ng.
Vol 6, No 2 (2017)

Open Access

Subscription or Fee Access
Table of Contents
Articles
ISSN: 2408-5987