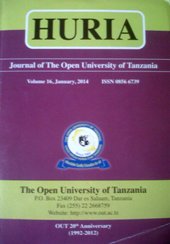 Huria provides a forum for exchange of views and ideas between academicians and scholars in various fields but particularly in distance education. Papers are welcomed from academics, researchers, trainers in distance education, educationalists and policy makers.
2013 Update: This journal is still active and will be updating its content on AJOL shortly.
Vol 24, No 2 (2017)

Open Access

Subscription or Fee Access
Special Issue: Edited Proceedings of the 5th Tanzania Commission of Science and Technology (COSTECH) Annual National STI Conference and Exhibitions held in August 2016 in Dar es Salaam, Tanzania.


Table of Contents
Articles
Effectiveness of the Domestic Cat (Felis silvestris catus) Urine Extracts Odour against Commensal Rodents
EMAIL FREE FULL TEXT
DOWNLOAD FULL TEXT
L.S. Mulungu, V. Ngowo, M.E. Mdangi, A.J.J. Magadula, M. Kapingu, E. Mbukwa, C.A. Mgina, M.W. Mwatawala, M. Kichuki, A.S. Mwakalobo, G.F. Mgode
110-121
ISSN: 0856-6739