ASSOCIATIONS BETWEEN DIETARY PATTERNS, NUTRITIONAL STATUS AND COGNITIVE PERFORMANCE OF FINAL YEAR UNDERGRADUATE STUDENTS IN THE DEPARTMENT OF FOOD SCIENCE AND TECHNOLOGY, COLLEGE OF SCIENCE, KNUST
Marina Aferiba Tandoh (PhD)

Department of Biochemistry and Biotechnology, Kwame Nkrumah University of Science and Technology

Veronica Tawiah Annaful

Department of Biochemistry and Biotechnology, Kwame Nkrumah University of Science and Technology
Keywords:
cognitive performance, nutritional status, Dietary pattern
Abstract
This study explored the relationship between dietary patterns, nutritional status and cognitive performance of final year undergraduate students in the Food Science and Technology department of KNUST. A cross sectional study was conducted among the final year undergraduate students of the Food Science and Technology Department, KNUST, Kumasi. A total of 30 participants were conveniently sampled for the study; however, only 21 were able to complete the study due to the Covid-19 pandemic and the resulting closure of schools. Five distinct dietary patterns were obtained using 99 food components identified through the food frequency questionnaire. These mainly comprised of starch-based foods, soups and stews with little fruits and vegetables consumption. A good proportion of participants (42.9%) had normal BMI. The prevalence of underweight, overweight and obesity was 14.3%, 28.6% and 14.3% respectively. Participants with normal cognitive performance were slightly higher (52.4%) than those with mild cognitive impairment (47.6%) according to the Montreal Cognitive Assessment test. The results showed no significant correlation between dietary patterns and nutritional status. Adherence to dietary pattern 4 characterized by low consumption of iron-enhancing fruits, sea foods, soups and stews, high consumption of starch-based foods, no iron-enhancing vegetables and snack consumption was associated with cognitive decline. Fruits and vegetables consumption was generally low, necessitating nutrition education and campaigns to encourage healthy eating. Furthermore, it will be necessary to apply policies to regulate the quality of food sold at on-campus cafeterias and canteens since students eat from these places while on campus.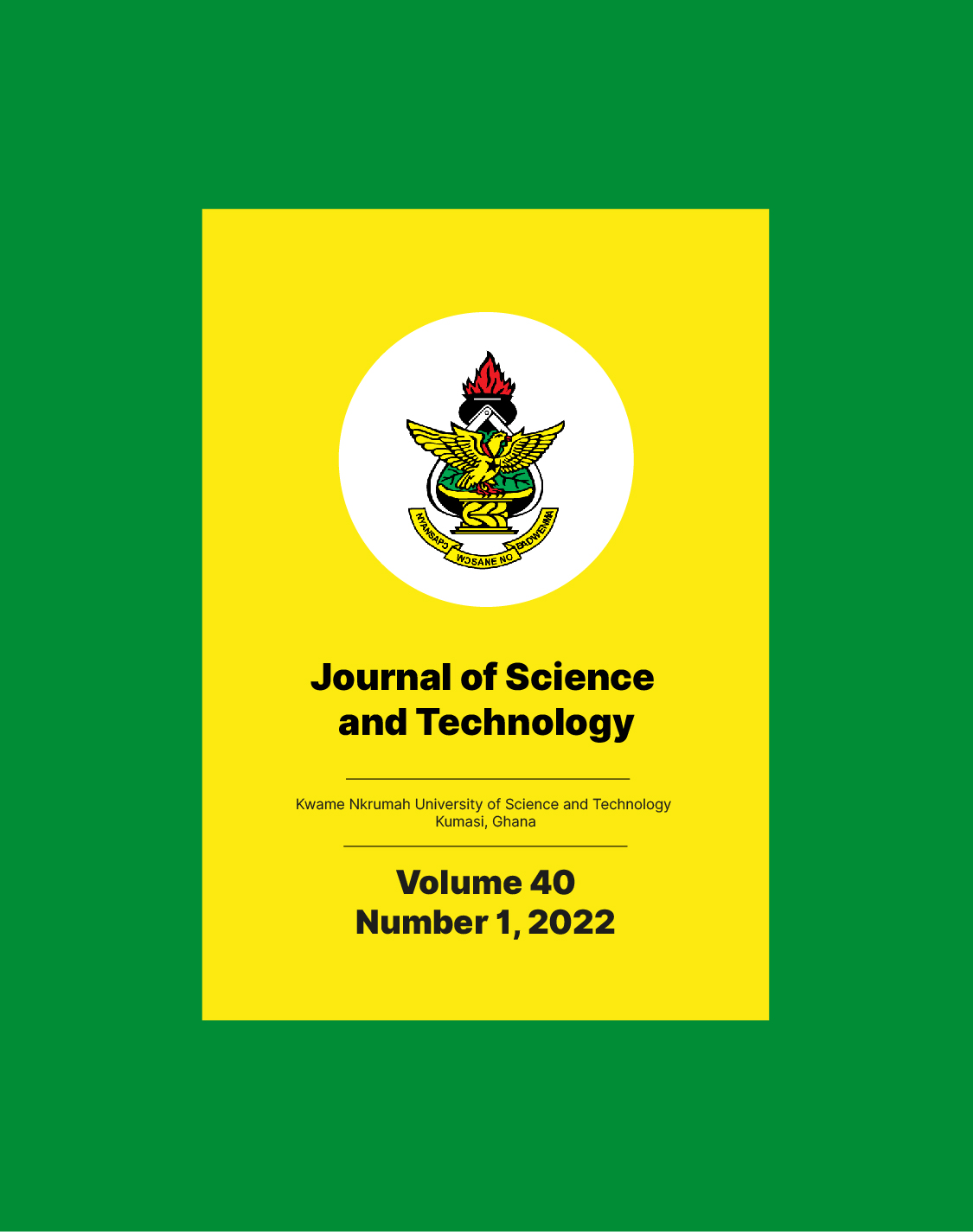 Copyright of the journal's content belongs to Kwame Nkrumah University of Science and Technology, Kumasi, Ghana.
The copyright of a submitted article is only transferred to the publishers if and when the article is accepted for publication. All rights reserved. No part of this publication may be reproduced, stored in a retrieval system or transmitted in  any form or by any means, electronic, electrostatic, mechanical, photocopying, recording or otherwise without the prior written permission of the publishers.