The AJOL site will be undergoing major upgrade over the next couple of days.
During this period there will temporarily be some restrictions to the available functionality.
Users will not be able to register or log in during this period.
downloads of fullt text (PDF) subscription based journal articles will NOT be available
full text (PDF) downloads of Open Access journal articles will be available as always
We apologise for any inconvenience caused. Please check back soon, as we will revert to usual policy as soon as possible.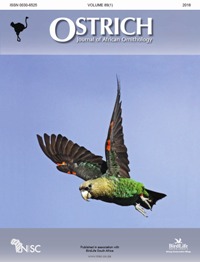 Ostrich: Journal of African Ornithology is a scientific journal published by NISC in association with BirdLife South Africa. Ostrich is an international journal that publishes papers in the general field of ornithology in Africa and its islands. The journal publishes peer-reviewed original scientific papers (3 000 to 10 000 words) and short articles of <2 000 words. Results of studies of the behaviour, biology, breeding, ecology, migrations and movements, and systematics of birds are published. Extended taxonomic reviews will not be considered unless they include relevant discussion of behavioural or ecological criteria.
Ostrich is also available with full text here
Impact Factor: 0.833 (2016)
5-year Impact Factor: 0.662 (2016)
Vol 90, No 4 (2019)

Open Access

Subscription or Fee Access
Table of Contents
Articles
The status and conservation of the Cape Gannet Morus capensis
EMAIL FULL TEXT
DOWNLOAD FULL TEXT
Richard B. Sherley, Robert J.M. Crawford2, Bruce M. Dyer, Jessica Kemper, Azwianewi B. Makhado, Makhudu Masotla, Lorien Pichegru, Pierre A. Pistorius, Jean-Paul Roux, Peter G. Ryan, Desmond Tom, Leshia Upfold, Henning Winker
335–346
ISSN: 1727-947X