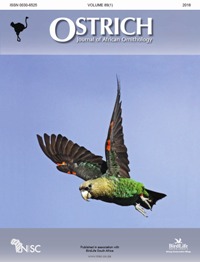 Ostrich: Journal of African Ornithology is a scientific journal published by NISC in association with BirdLife South Africa. Ostrich is an international journal that publishes papers in the general field of ornithology in sub-Saharan Africa and its islands. The journal publishes peer-reviewed original scientific papers (3 000 to 10 000 words) and short articles of <2 000 words. Results of studies of the behaviour, biology, breeding, ecology, migrations and movements, and systematics of birds are published. Extended taxonomic reviews will not be considered unless they include relevant discussion of behavioural or ecological criteria.

Ostrich is also available with full text on www.informaworld.com/tost
This journal has a current JCR Impact Factor of 0.460 which has increased substantially from 0.222 in 2008.
Vol 88, No 3 (2017)

Open Access

Subscription or Fee Access
Table of Contents
Articles
ISSN: 0030-6525