The AJOL site will be undergoing a major upgrade over the next couple of days.
During this period there will temporarily be some restrictions to the available functionality.
Users will not be able to register or log in during this period.
downloads of full text (PDF) subscription based journal articles will NOT be available
full text (PDF) downloads of Open Access journal articles will be available as always
We apologise for any inconvenience caused. Please check back soon, as we will revert to usual policy as soon as possible.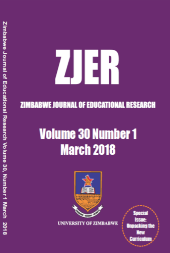 The Zimbabwe Journal of Educational Research (ZJER) is an international refereed journal that is published by the University of Zimbabwe's Human Resources Research Centre (HRRC) under the Faculty of Education. The journal is available in print and online three times a year. ZJER is hosted online by African Journals OnLine (AJOL) at www.ajol.info. The main thrust of ZJER is to facilitate the publication of educational and scholarly research articles written by academics throughout the world. The HRRC has a team of Editors, supported by the Editorial Board and Editorial Advisory Board, which works to maintain and improve the quality of our publications.
Vol 31, No 1 (2019)

Open Access

Subscription or Fee Access
Table of Contents
Articles
ISSN: 1013-3445