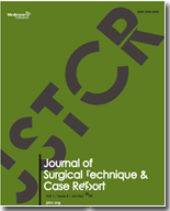 The aim of Journal of Surgical Technique and Case Report is to advance surgical knowledge and practice by promoting the reporting of innovative and reproducible surgical techniques and illustrative surgical cases on various surgical disciplines.

 

The journal encourages authoritative synthesis of current surgical literature and practice and will serve as a source of material on evidence based knowledge about current acceptable surgical techniques. It will serve as a medium for experts to detail how they do it.

  

The journal will accommodate case reports, case series and reviews of surgical techniques with potentials to illustrate management of surgical cases or to advance new frontiers in surgical technique. It will provide a quarterly medium for communication and continuing surgical education and debate among surgeons and surgical trainees.
Other websites related to this journal:
http://www.jstcr.org/