Serum Vitamin D Level among Multiple Sclerosis Patients in the Tropics: Experience from a Private Clinic in Addis Ababa, Ethiopia
Biniyam A. Ayele

Mehila Z. Wuhib

Betesaida G. Zenebe

Guta Z. Metaferia
Keywords:
Multiple sclerosis, hypovitaminosis D, latitude, vitamin D, Ethiopia
Abstract
BACKGROUND፡ Multiple sclerosis (MS) is an immune mediated disabling neurological disorder. Very little is known about MS in Ethiopia. The objective of this study was to determine the prevalence of hypovitaminosis D and associated factors in cohort of MS patients in Ethiopia.
METHOD: A cross-sectional observational study was conducted among 25 multiple sclerosis patients at Yehuleshet Specialty Clinic, Addis Ababa, Ethiopia.
RESULTS: The prevalence of vitamin D deficiency was 96% (n=24). The average serum vitamin D was 14.8 (±10.4) ng/mL. The mean age was 35.8 (±10) years. Females accounted for 80% (n=20). Relapsing and remitting MS was the commonest variant. Motor, sensory, and mixed symptoms accounted for 40% (n=10), 20% (n=5), and 24% (n=6), respectively. Cold or hot weather and stress were reported as worsening factors in 24% (n=6). Relapse rate was 44% (n=11). Fatigue and seizure disorder were reported by 80% (n=20) and 16% (n=4) respectively. Steroid is the commonest prescribed medication for the patients. A negative
correlation was found between serum vitamin D and age (r = -0.062, p = 0.7). Similarly, a negative association was observed between vitamin D and duration of illness (r = -0.311, p = 0.1). Fatigue was reported by those with moderate hypovitaminosis compared to those having severe hypovitaminosis (p=0.002). Seizure was reported more by those with vitamin D below 10ng/mL compared to those having above 10 ng/mL (p=0.004).
CONCLUSION: Our study demonstrates a high prevalence of hypovitaminosis D in Ethiopian MS patients. Hypovitaminosis D was associated with increment in age and duration of illness.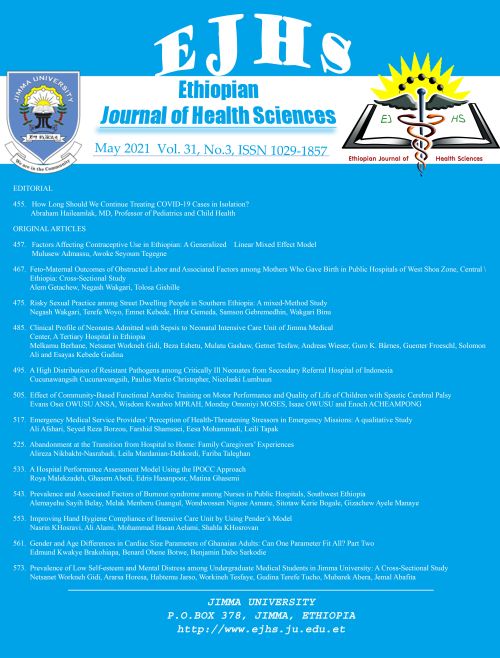 Copyright belongs to the journal.