Determinants of Postnatal Care Check-ups in Ethiopia: A Multi- Level Analysis
Afework Tadele

Masrie Getinet
Keywords:
Postnatal care; multilevel; EDHS; Ethiopia
Abstract
BACKGROUND፡ Postnatal care is provided to women and their babies within 42 days after delivery. Although the first two days after birth was a critical time in maternal health, it was the most neglected period of maternal health services. Therefore, this study aims to determine the maternal and community-level factors of postnatal check-ups in Ethiopia
METHODS: Ethiopian Demographic and Health Survey (EDHS) in 2016 was utilized. A total of 3,948 women aged 15-49 giving birth in the two years before the survey were included. A multilevel mixed-effects logistic regression model was employed.
RESULT: Only 17% [95% C.I; 16.46%-17.53%] of the women had a postnatal check-up (PNC) within 2 days of giving birth in Ethiopia. Institutional delivery AOR 2.14 [95% C.I 1.70, 2.0] and giving birth by cesarean section AOR 1.66 [95% CI 1.10, 2.50] were found to be maternal factors. Whereas, administrative
regions (Oromia 69%, Somali 56%, Benishangul 55%, SNNPR 43%, Gambela 66%, Afar 50% and Dire Dawa 55% which less likely to utilize PNC as compared to Addis Ababa), higher community-level wealth AOR 1.44 [95% C.I 1.08, 1.2], ANC coverage AOR 1.52 [95% C.I 1.19, 1.96] and perceived distance of the health facility as a big problem AOR 0.78 [95% C.I 0.60, 0.99] were the community level factors.
CONCLUSION: Both maternal factors and community factors are found to be a significant association with PNC, however, based on the ICC maternal factors prevail the community-level factors. Therefore, public health interventions to increasing improve postnatal care services should focus on community level determinants.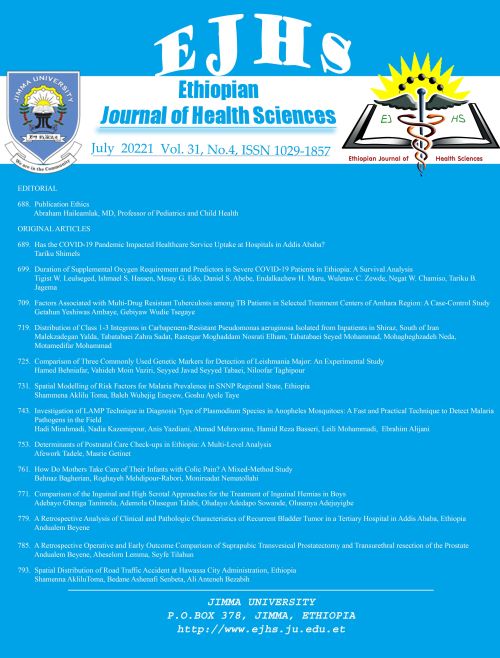 Copyright belongs to the journal.