Seagrass restoration trials in tropical seagrass meadows of Kenya
Jacqueline Uku

Kenya Marine and Fisheries Research Institute

Lillian Daudi

Kenya Marine and Fisheries Research Institute, Mombasa

Charles Muthama

Kenya Marine and Fisheries Research Institute, Mombasa

Victor Alati

Alex Kimathi

Samuel Ndirangu
Keywords:
Thalassodendron cililatum, Thalassia hemprichii, rehabilitation, sods, mimics, Hessian bag
Abstract
The degradation of seagrasses is becoming prevalent in the Western Indian Ocean (WIO) region due to anchor damage, sea urchin herbivory, extreme events such as cyclones and floods and anthropogenic factors such as pollution and sediment inflows. Consequently, there have been numerous efforts to advance the restoration of degraded seagrass beds in several countries in the region. In Kenya, experimental restoration efforts were started in 2007 in response to seagrass habitat degradation due to sea urchin herbivory. Although the initial efforts experienced challenges, there were lessons learned which provided insights into subsequent restoration work using different techniques. In this paper, insights are provided into three types of restoration techniques; the sod technique, the seagrass mimic technique, and the Hessian bag technique. In the case of the sod technique, Thalassodendron ciliatum showed a decline from 20 ± 1.7 shoots sod-1 in the first three weeks to 7 ± 4.4 shoots sod-1 at the end of the experimental period of the study, while Thalassia hemprichii sods showed an increase from 28 ± 3.4 shoots sod-1 to 32 ± 2.7 shoots sod-1 over the same period. For the Hessian bag method, the expectation was that the pilot site would be filled with the transplanted seagrass species, Thalassia hemprichii, but the findings showed that different species including Halodule uninervis, Syringodium isoetifolium, Halophila stipulacea, Cymodocea rotundata, and Cymodocea serrulata colonized the area. This indicated that it was not possible to restore the area to its original status, but that the area could be rehabilitated. The costs of restoration have also been assessed as well as community participation in such initiatives. These findings provide insights for restoration efforts in Kenya and provide a baseline for future work.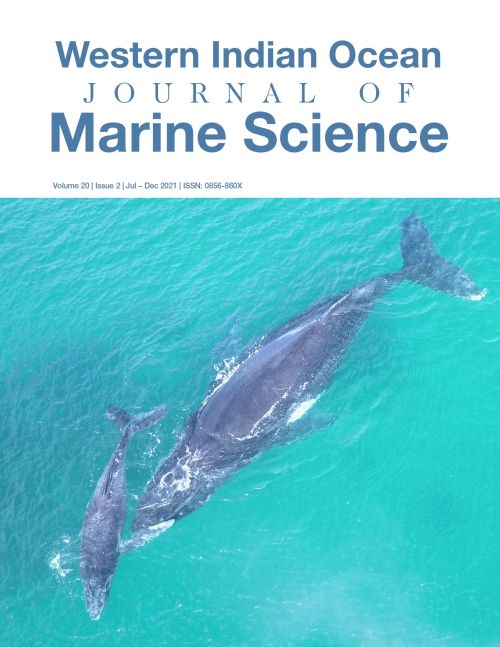 Copyright is owned by the journal. The articles are open access articles distributed under the terms and conditions of the Creative Commons Attribution (CC BY 4.0) licence.