Supplementation of probiotics in Nile tilapia fingerling cultivation subjected to microbial challenge
Keywords:
aquaculture, fish farming diseases, Oreochomis niloticus, probiotics
Abstract
The intensification of aquaculture has brought about the need to find alternative feed supplement sources to reduce production costs. One of the alternative sources of feed in fish farming is animal manure. However, the use of animal manure may cause health problems in fish cultures. The objective of this study was to determine the effects of probiotics on Nile tilapia fingerlings subjected to microbial challenge using swine manure. Three hundred (300) fingerlings weighing 2±0.05g and measuring 5±0.06 cm, were distributed among four treatments with three replications each. Swine manure was inoculated in water in the proportion of 10 % of fingerlings live weight. Probiotics Saccharomyces cerevisiae and Lactobacillus plantarum were used as ration supplements in the proportions of 0.5 % per 100 g of ration. The results showed no significant differences (P>0.05) in terms of growth between treatments. The inclusion of S. cerevisiae reduced the number of pathogenic bacteria in the intestine of fingerlings and resulted in better production performance. Feed supplementation with L. plantarum had no effect, neither on production, nor on intestinal microbial population. The fingerlings under study showed typical signs of yersiniosis, edwardiellosis and mycobacteriosis. From the experiment it was concluded that the supplementation of the probiotic S. cerevisiae on the Nile tilapia fingerlings treated with swine manure showed a positive effect in the sense that this probiotic avoided the intestinal colonization of fingerlings by pathogenic bacteria. Additionally, the presence of the probiotic seems to promote better grow performance and hence reinforce the results of previous studies on the role of probiotics in aquaculture. More experimental studies are required, particularly in situ experiments, with the addition of other performance analyses linked to the immune response of the fingerlings.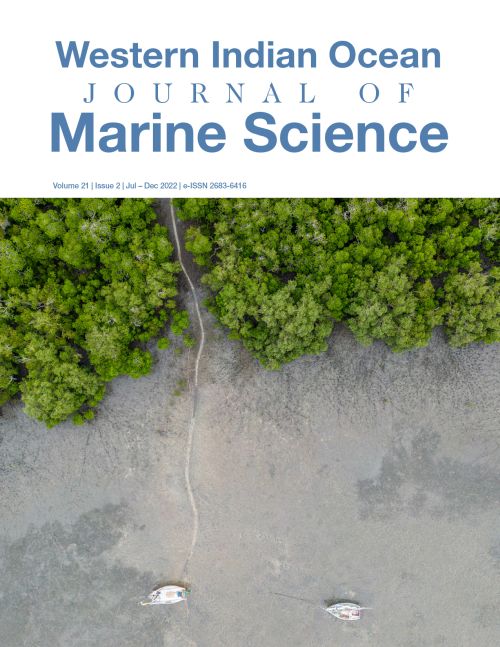 Copyright (c) 2022 Western Indian Ocean Journal of Marine Science
This work is licensed under a Creative Commons Attribution 4.0 International License.
Copyright is owned by the journal. The articles are open access articles distributed under the terms and conditions of the Creative Commons Attribution (CC BY 4.0) licence.