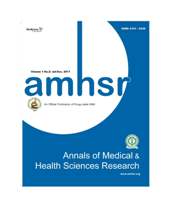 The journal covers technical and clinical studies related to health, ethical and social issues in field of all aspects of medicine (Basic and Clinical), Health Sciences, Nursing, Medical Laboratory Sciences, Medical Radiography and Rehabilitation, Pharmacy, Biomedical Engineering, etc. Articles with clinical interest and implications will be given preference.

Other websites related to this journal: http://www.amhsr.org/
AJOL is no longer updating this journal because it has been purchased by a Pulsus, a division of OMICS publishers group, with which AJOL does not work. Archival content of this title is being kept on AJOL as it is part of the scholarly record.