IMPACT OF LIME AND CEMENT ON VARIOUS LATERITIC SOIL SAMPLINGS AS CONSTRUCTION MATERIAL
Engr Igibah Christopher Ehizemhen

Nigerian Society of Engineers

Dr. (Mrs.) Oluyemi-Ayibiowu Bamitale Dorcas (MNSE)

Faculty member and Researcher at Federal University of Technology, Akure (FUTA)

Engr Agashua Lucia Omolayo (MNSE)

Nigerian and American Society of Engineers
Keywords:
lateritic soils, strength, Portland cement, Hydrated lime
Abstract
This study was performed so as to evaluate engineering properties and strength of lateritic soils stabilized with hydrated lime and Portland cement as construction materials. Soil samplings P1, P2, P3, P4, and P5 was collected from Dualization of Sheda - Abaji, Abuja, F.C.T, Nigeria and stabilized with 0, 3, 6, 9, and 12% of hydrated lime and Portland cement.  Many laboratory tests were performed on the soil sampling such as Consistency (Atterberg limit), California Bearing Ratio (C.B.R), water absorption, compaction test and particle size distribution. The research revealed that beneficial impacts were obtained thru the addition of hydrated lime and Portland cement in order to increase the strength of poor or weak soils. C.B.R values are 9.98, 9.88%, 8.36%, 7.89% and 7.27% for samplings P1, P2, P3, P4 and P5 respectively at 0% additive content and at 12% additives, the samplings gave C.B.R values of 59%, 55%, 53%, 51.0% and 50.00% by using cement. All the five samplings have highest C.B.R values of 48.0% with hydrated lime as additives. Introduction of additives improved the soil samplings from a very poor subbase and base materials to an excellent base material with C.B.R values over 40%. Thus, improvement of laterite soil samplings from the studied locality can be perform successfully by using Lime judging from the outcome of the different tests on the various soil admixtures.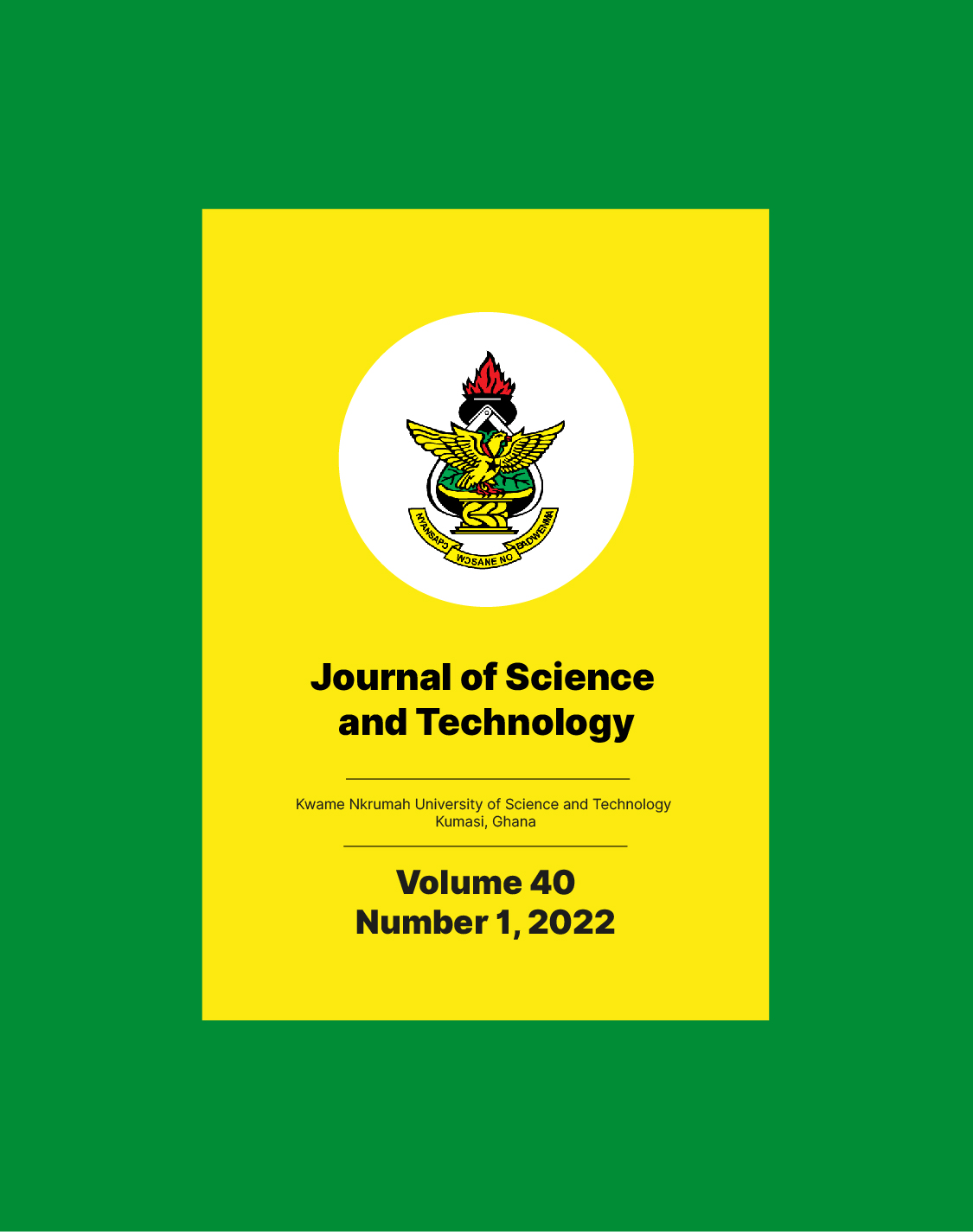 Copyright of the journal's content belongs to Kwame Nkrumah University of Science and Technology, Kumasi, Ghana.
The copyright of a submitted article is only transferred to the publishers if and when the article is accepted for publication. All rights reserved. No part of this publication may be reproduced, stored in a retrieval system or transmitted in  any form or by any means, electronic, electrostatic, mechanical, photocopying, recording or otherwise without the prior written permission of the publishers.