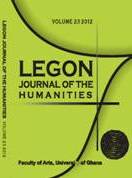 Founded in 1974, Legon Journal of the Humanities (LJH) is a peer-reviewed periodical published by the College of Humanities, University of Ghana. LJH welcomes the following types of contributions in the humanities from scholars in all countries: 
research articles 
reviews of new and particularly noteworthy books and films
interviews with distinguished writers, filmmakers, and scholars
The journal is devoted to the study of the humanities, operationally conceptualized to cover not just the arts and languages but also social science disciplines, such as cultural studies, human geography, international affairs, management studies, political science, psychology, and sociology. The journal occasionally publishes theme-based issues, coordinated by guest editors. For such editions, a call for papers (CFP) is announced in a preceding issue of the journal and/or through listserv/mail shots. 
For all its issues, LJH only publishes original contributions (i.e., papers that have not been published elsewhere) and therefore, disapproves of duplicate publication and multiple submissions of the same paper to different publication outlets.  In consonance with best academic practices, it equally takes a very dim view of the illegitimate direct replication of material in the form of plagiarism, including self-plagiarism. The Editorial Board will not only ban authors of plagiarized material from any subsequent association with the journal, but also bring any breach of intellectual property rights to the attention of the contributor's institution.
The language of publication is English. As of Vol. 26, LJH will be published online twice a year as a gratis open access journal.  
Legon Journal of the Humanities is indexed in Modern Language Association (MLA) and Directory of Open Access Journals (DOAJ).
Vol 30, No 1 (2019): Special Issue

Open Access

Subscription or Fee Access
This special issue is a collection of articles which cover a wide range of topics on proverbs. The papers, most of which emanate from a selection of high quality presentations from the Second School of Languages Colloquium (University of Ghana) have undergone rigorous double blind peer review.  
Focusing mainly on African proverbs, the topics addressed by the authors span over several sub-disciplines of Linguistics, Literature, Music, and Education. The authors have probed and interrogated intensely the issues they address. Dominica Dipio's article, African Motherhood Proverbs and Worldview: A Matriarchal Perspective, reflects on how life is organized around the mother in a predominantly patriarchal African society while Charles Owu-Ewie expounds on the use of proverbs to advise couples on virtues in marriage contractions in his paper, Proverbs in Marriage: Their counselling role and implications. Joseph Brookman Amissah-Arthur investigates the rhetorical strategies of the famous trickster 'Ananse' in Akan folktale in his article titled Theorising Pornogrammar in the Akan Folktale Tradition: The Trickster's Rhetorical Indirection and Sexual Indiscretion. Gbemisola Adeoti reflects on the use of proverbs as a verbal resource for enriched communication in African drama in his article The Loudness of the 'Unsaid': Proverbs in Selected African Drama. Solomon Ali Dansieh investigates the effectiveness of the use of proverbs to achieve naturalness in Bible translation in his article Proverbs and Naturalness in Mother-Tongue Translation: The Dagaare New Testament in Perspective. In their paper Use of Proverbs as Communicative Tool in Ghanaian Choral Music Compositions Joshua Alfred Amuah and Hilarius Mawutor Wuaku analyse the use of proverbs as effective communicative tool in Ghanaian choral music composition. Benedicta Adokarley Lomotey embarks on an investigation into the existence and effects of sexist proverbs in Spanish communities. Maimouna Sankhé examines the use of proverbs and taxonomies in discourse to negotiate hegemony in Latin America and the Caribbean in Race, Taxonomies, and Proverbs in Latin American and the Caribbean Discourse.  Lastly, touching on the didactic role of proverbs in formal education, Kwadwo Osseo-Asare's Ogya ne atuduro nna faako - Fire and gunpowder do not sleep together: Teaching and learning Materials Science and Engineering with African proverbs advocates the use of proverbs in the teaching of Material Science and Engineering to enhance students' cognitive understanding of the subject.
Evidently, each of the papers in this publication constitutes an immense contribution to knowledge and together they fill a significant gap in the study of proverbs from varied perspectives.
Guest Editors
Josephine Dzahene-Quarshie
Nana Ama Agyeman
Table of Contents
Articles
ISSN: 2458-746X