The AJOL site will be undergoing a major upgrade over the next couple of days.
During this period there will temporarily be some restrictions to the available functionality.
Users will not be able to register or log in during this period.
downloads of full text (PDF) subscription based journal articles will NOT be available
full text (PDF) downloads of Open Access journal articles will be available as always
We apologise for any inconvenience caused. Please check back soon, as we will revert to usual policy as soon as possible.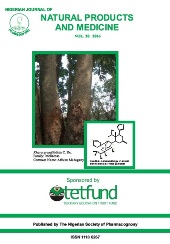 Nigerian Journal of Natural Products and Medicine
is published by the Nigerian Society of Pharmacognosy, a non profit organisation established in 1982 dedicated to the promotion of Pharmacognosy, Natural Products and Traditional Medicine. It has a current circulation of about 500 to scientists in Nigeria and abroad. The journal is produced once a year and had been in production since 1996. Articles published cover phytomedicine, natural product chemistry and biochemistry, pharmacognosy and traditional medicine, ethnoveterinary medicine and chemistry, clinical studies among others.
Vol 22 (2018)

Open Access

Subscription or Fee Access
Table of Contents
Articles
ISSN: 1118-6267