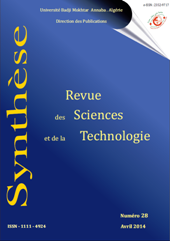 Synthèse : Revue des Sciences et de la Technologie is a half-yearly international peer-reviewed journal published by the Diroctorate of Publication of "Université Badji Mokhtar- Annaba" (Algeria) since 1996.
Synthèse is a multidisciplinary journal. Its scope covers the fields of pure and applied science, natural and life science, medicine, geology, architecture and engineering. It offers a space for publication of original experimental and theoretical research studies as well as review articles. Manuscripts should be submitted in English, French and Arabic.
This journal's website can be viewed here.
Journal Identifiers

eISSN: 2352-9717
print ISSN: 1111-4924