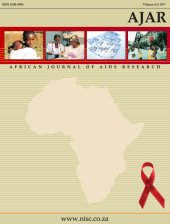 African Journal of AIDS Research (AJAR) is a peer-reviewed research journal publishing papers that make an original contribution to the understanding of social dimensions of HIV/AIDS in African contexts. AJAR includes articles from, amongst others, the disciplines of sociology, demography, epidemiology, social geography, economics, psychology, anthropology, philosophy, health communication, media, cultural studies, public health, education, nursing science and social work. Papers relating to impact, care, prevention and social planning, as well as articles covering social theory and the history and politics of HIV/AIDS, will be considered for publication.
Subscriber access for this journal is available online here.
Vol 16, No 4 (2017): Special Issue: What the world can learn from Swaziland

Open Access

Subscription or Fee Access
Articles published under an OA licence CC-BY.
Table of Contents
Articles
A qualitative analysis of the barriers to antiretroviral therapy initiation among children 2 to 18 months of age in Swaziland
EMAIL FREE FULL TEXT
DOWNLOAD FULL TEXT
Charisse V Ahmed, Pauline Jolly, Luz Padilla, Musa Malinga, Chantal Harris, Nobuhle Mthethwa, Inessa Ba, Amy Styles, Sarah Perry, Raina Brooks, Florence Naluyinda-Kitabire, Makhosini Mamba, Peter Preko
ISSN: 1608-5906