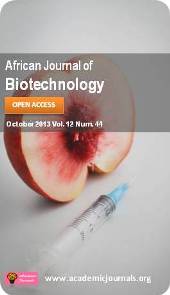 The African Journal of Biotechnology (AJB), a new broad-based journal, was founded on two key tenets: To publish the most exciting research in all areas of applied biochemistry, industrial microbiology, molecular biology, genomics and proteomics, food and agricultural technologies, and metabolic engineering. Secondly, to provide the most rapid turn-around time possible for reviewing and publishing, and to disseminate the articles freely for teaching and reference purposes. All articles published in AJB are peer-reviewed.
Information on this journal can also be found on the publisher's website: http://www.academicjournals.org/ajb/
AJOL has stopped updating this journal, as it no longer complies with our basic inclusion criteria.