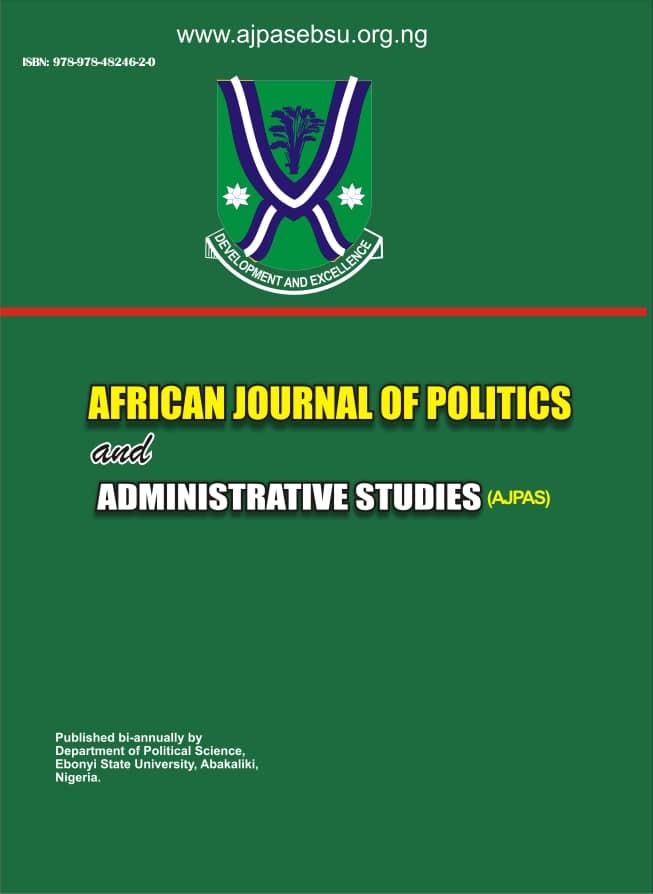 African Journal of Politics and Administrative Studies offers open access platform to the scholars , researchers, academia, and students of politics and administration with a view to publishing the most captivating , innovative and trending researches that explore political issues and administrative research in the wake of globalization.
Hosted by the Department of Political Science Department of Ebonyi State University Abakaliki Nigeria, West Africa.
Since 2004, " AJPAS" has become a peer-reviewed international journal which accepts high quality research articles. The Journal is published two times a year (June/December).
The Journal is keen in capturing the major developments in the Political science and Public Administration discipline that is growing vertically and horizontally. The goal of AJPAS is to provide original, relevant, and timely information from diverse sources; to write and publish with absolute integrity; and to serve as effectively as possible the needs of scholars. AJPAS also provides immediate open access to its content on the principle that making research freely available to the public supports a greater global knowledge production and exchange. AJPAS is open to all researchers, in the field of Political Science and Public Administration regardless of their geographical origin, race, nationality, religion or gender in so far as they have an adequate scientific articles. All manuscripts are subject to double blind peer review by members of the editorial board who are noted experts in the appropriate field of specialization.