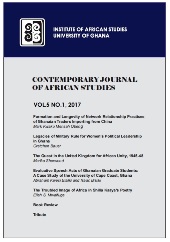 The
Contemporary Journal of African Studies
, formally published as
Research Review of the Institute of African Studies
(see RRIAS pages here:
http://www.ajol.info/index.php/rrias/index
) publishes academic and scholarly articles that set forth the findings of new research in any branch of African Studies, or discuss and re-evaluate earlier or current research or publications by an author or authors.
Vol 5, No 1 (2017)

Open Access

Subscription or Fee Access
The CJAS is owned by the Institute of African Studies, University of Ghana. It publishes academic papers in the domain of African Studies. It has two issues per year.
The general editor and the editorial team acknowledge for the second time round the financial support of the Carnegie Corporation of New York through the University of Ghana Building A New Generation of Academics in Africa (BANGA-Africa) Project.
Table of Contents
Articles
ISSN: 2343-6530