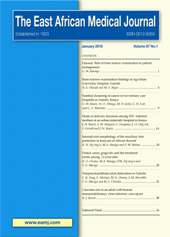 The East African Medical Journal is intended for publication of papers on original work and reviews of all aspects of medicine. Communications bearing on clinical and basic research on problems relevant to East Africa and other African countries will receive special attention.
The EAMJ has a 3 year embargo period/moving wall on its published content. Therefore all content older than 3 years will be freely available for download. More recent content will be available as pay-per-view.
NOTICE TO OUR ESTEEMED READERS
We wish to inform all readers that we have skipped one year of Publication so as to be current. Kindly note that we will not Publish issues for the months of August 2019 to July 2020.
Please take note that due to unavoidable circumstances the next Publication for the year will commence with the August 2020 Issue.
We apologize for any inconvenience caused.
Thank you for your continuous Support.
Journal Identifiers

eISSN: 0012-835X