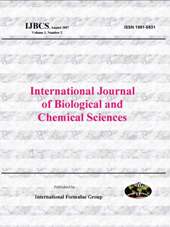 The International Journal of Biological and Chemical Sciences (IJBCS) is a journal published by International Formulae Group (IFG). It is devoted to the publication of contributions in all fields of biology including microbiology, parasitology, biochemistry, biophysics, molecular biology, physiology, pathology, health sciences, pharmacology, toxicology, biotechnology, biostatistics, bioinformatics, environmental biology, hydrobiology, food science, nutrition, agricultural sciences, agropastoralism, animal production, wildlife, botany, ethnobotany, forestry, agroforestry and agrogeology. It is also devoted to the publication of contributions in all fields of chemistry including chemistry of natural products, organic synthesis, physical chemistry, analytical chemistry, inorganic chemistry, pharmaceutical chemistry, industrial chemistry, clinical chemistry, hydrochemistry, agrochemistry, geochemistry and biogeochemistry. IJBCS publishes original research papers, critical up-to-date and concise reviews on topics of current interest, and short communications. It aims to serve all bioscientists and all chemists. Six issues are published per year.
Language of Publication: French, English
You can view this journal's website here.