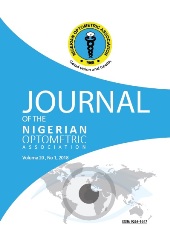 This international, peer-reviewed journal is an official publication of the Nigerian Optometric Association (NOA). It is devoted to bring together, for its specialised audience, up-to-date clinical and scientific research information and novel developments in the broad fields of Optometry and Health Sciences, providing a medium for their rapid publication and facilitate greater understanding among researchers. In the upcoming edition, in addition to its traditional publishing protocols, the journal will feature an online publication on NOA website,
www.noang.org
.  To reach a worldwide audience, the full text is published at
http://www.ajol.info/ajol/
.  Authors of successfully published works will also be presented with a Certificate of Publication by the NOA.
Vol 20, No 2 (2018)

Open Access

Subscription or Fee Access
Table of Contents
Articles
ISSN: 0795-0039