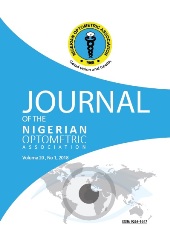 Journal of the Nigerian Optometric Association (JNOA) is the official scientific publication of the Nigerian Optometric Association. It is a peer-reviewed, open-access journal devoted to bringing together up-to-date clinical and scientific research information and novel developments in the broad fields of optometry and vision science including basic and clinical research aimed at advancing the science, technology, ethics and practice of Optometry and Health sciences.
The scope of the journal covers basic, translational and clinical research in optometry and vision science. The journal publishes research in the broad fields of Eye Care/Vision Sciences and Public
Health; Primary Care Optometry, Public Health Optometry, Rehabilitative Optometry and Low Vision Care, Paediatric Optometry, Corneal and Contact Lenses, Ocular Health, Orthoptics, Anatomy, Physiology, Epidemiology, Economics and Sociology of Vision and Blindness, Ocular Biomedics, Optics and Instrumentation, Optometric Education and History, etc. Publication of papers in this journal requires strict compliance with specifications as outlined herein. The audience of JNOA includes Optometrists, Ophthalmologists, Ophthalmic Nurses, Public health and Vision Scientists as well as undergraduate and post-graduate students in these field.
Other websites associated with this journal: www.noang.org
Journal Identifiers

eISSN: 0795-0039
print ISSN: 0795-0039