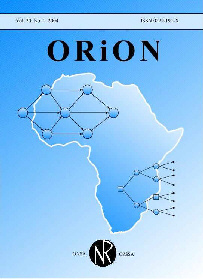 ORiON is the official journal of the Operations Research Society of South Africa (ORSSA) and is published biannually. Papers in the following categories are typically published in ORiON: • Development of New Theory, which may be useful to Operations Research practitioners, or which may lead to the introduction of new methodologies or techniques. • OR Success Stories, which describe demonstrably successful applications of Operations Research within the Southern African context (at the developing / developed economy interface) or similar environments elsewhere. • OR Case Studies, which might not be "success stories," but which emphasize novel approaches or describe pitfalls in the application of Operations Research. • OR Methodological Reviews, which survey new and potentially useful methodological developments, aimed at Operations Research practitioners especially in Southern Africa. The above list is by no means exhaustive.
More information about the journal can be found at http://orion.journals.ac.za/pub and http://www.orssa.org.za/wiki/pmwiki.php?n=Main.ORiON
Online Submissions: Authors of new submissions are requested to use ORiON's online submission system. It is currently available at http://www.orssa.org.za/wiki/pmwiki.php?n=ORiON.Submission. Not only does it ease the administrative burden of the editorial team, but authors can track the refereeing process of their submitted papers on the online system. Referees can also register and complete their referees' reports on this online system. Please contact the journal manager, Matin Kidd, if you need any assistance to use this new facility.
Journal Identifiers

eISSN: 2224-0004
print ISSN: 0259-191X