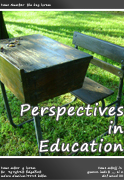 Perspectives in Education is a professional, peer-reviewed journal that encourages the submission of previously unpublished articles on contemporary educational issues. As a journal that represents a variety of cross-disciplinary interests, both theoretical and practical, it seeks to stimulate debate on a wide range of topics.
The journal is committed to the process of capacity building in the area of scholarly writing and publication among new writers. It aims to accelerate the development of capacity among black and women educationists in South Africa, and to broaden contributions to include writers from other African, Latin American, and Asian countries.
As the journal aims to make itself accessible to a wider reading community, it encourages authors to make their content accessible to a broad readership, including those who may not be familiar with the subject matter addressed.
PiE
challenges contributors to use innovative, provocative and creative ways of presenting and reporting their research.
Other sites related to this journal: http://www.perspectives-in-education.com/
Journal Identifiers

eISSN:
print ISSN: 0258-2236