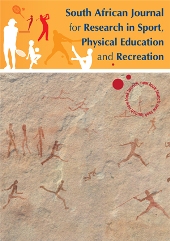 Suid-Afrikaanse Tydskrif vir Navorsing in Sport, Liggaamlike Opvoedkunde en Ontspanning / The South African Journal for Research in Sport, Physical Education and Recreation is published by the Southern African Alliance for Sport Science, Physical Education and Recreation. Contributions from the fields of Sport Science, Movement Education, Recreation/Leisure Studies, Exercise Science and Dance Studies will be considered for publication. The articles submitted will be administered by the appropriate Review Editor and evaluated by two or more referees. 
This journal's own homepage: https://journals.nwu.ac.za/sajrsper
Content published in and after 2023 will now be freely accessible for this title.