The AJOL site will be undergoing a major upgrade over the next couple of days.
During this period there will temporarily be some restrictions to the available functionality.
Users will not be able to register or log in during this period.
downloads of full text (PDF) subscription based journal articles will NOT be available
full text (PDF) downloads of Open Access journal articles will be available as always
We apologise for any inconvenience caused. Please check back soon, as we will revert to usual policy as soon as possible.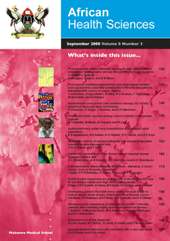 African Health Sciences is an open access, free online, internationally refereed journal publishing original articles on research, clinical practice, public health, policy, planning, implementation and evaluation, in the health and related sciences relevant to Africa and the tropics. African Health Sciences acknowledges support provided by the African Health Journals Partnership Project that is funded by the US National Institutes of Health (through the National Library of Medicine and the Fogarty International Center) and facilitated by the Council of Science Editors.
Indexed on MEDLINE/PUBMED; PUBMED CENTRAL; African Index Medicus; HINARI; Bioline; AJOL; Science Citation Index - Clarivate (Thompson Reuters) Impact factor (2018): 0.842. CiteScore (2018): 0.99.
Other websites related to this journal include:  http://www.bioline.org.br/hs
African Health Sciences encourages authors to now submit their papers online to the following website: http://mc.manuscriptcentral.com/mums-ahs
Vol 19, No 4 (2019)

Open Access

Subscription or Fee Access
Table of Contents
Articles
Adequacy of macro and micronutrients in infants and young children's diets in Zanzibar, Tanzania
EMAIL FREE FULL TEXT
DOWNLOAD FULL TEXT
Joyce Kinabo, Peter Mamiro, Akwilina Mwanri, Nyamizi Bundala, Kissa Kulwa, Janeth Picado, Julius Ntwenya, Aneth Nombo, Rehema Mzimbiri, Fatma Ally, Asha Salmini, Abuu Juma, Elizabeth Macha, Edith Cheung, John Msuya
3063-3077
ISSN: 1680-6905