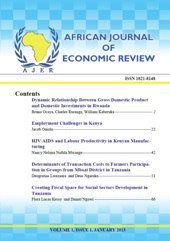 The African Journal of Economic Review (AJER) is a quarterly peer-reviewed Journal that publishes high quality and scholarly manuscripts on economic topics relevant to Africa, for anyone interested in the African continent.  The AJER is an applied journal that invites rigorously treated manuscripts with significant component of economic analysis.  The AJER accepts manuscripts with keen interest in the following fields: Microeconomics, Macroeconomics, Monetary Economics, International Economics, Financial Economics, Public Economics, Health Economics, Educational Economics, Welfare Economics, Labour Economics, Industrial Organization, Economic History, Economic Development, Innovation, Technological Change, and Growth; Political Economy and Comparative Economic Systems, Agricultural and Natural Resource Economics, Environmental and Ecological Economics; Urban, Rural, Regional, Real Estate, and Transportation Economics; Cultural Economics, Sports Economics, Tourism Economics, History of Economic Thought and Heterodox Approaches. 
Authors are advised to observe that the introduction section of the manuscript (usually not more than three pages) needs to clearly motivate the problem, state research question succinctly, introduce the empirical method, present the estimated results, include a note on value addition to the existing body of knowledge, robustness checks, policy implications, limitations and organization of study. The AJER requires authors to submit manuscripts that clearly locate the existing gaps in the literature, discuss the relevant theory, and introduce the research hypotheses if any.  Authors are also reminded to provide details on all data sources and their limitations. The methodology section needs to single out clearly  why the use of a particular methodology is more preferred than alternative; and more so, giving appropriate details when recent techniques are employed. The discussion section should highlight the implications, novel contributions and the limitations of the existing study.
The website associated with this journal: http://www.out.ac.tz.
The AJER is indexed in