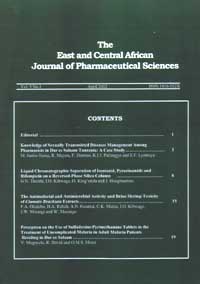 The East and Central African Journal of Pharmaceutical Sciences is dedicated to all aspects of Pharmaceutical Sciences research and is published in English.
The scientific papers published in the Journal fall into three main categories: review papers, original research papers and short communications. Review papers in any discipline of pharmaceutical sciences are written at the invitation of the editor. They may cover highly specialized fields or general subjects of importance. Original research papers and short communications should describe original and unpublished work. The main purpose of short communications is rapid communication of brief (and often preliminary) research results on current topical issues. They should be limited to one or two double-spaced written pages. Original research papers are subjected to external review, whereas short communications may sometimes only be reviewed by the receiving editor.
The journal also covers announcements and reports on symposia, meetings, courses and other events of interest as well as book reviews and new literature surveys in pharmaceutical and allied sciences.
Other websites associated with this journal: http://uonjournals.uonbi.ac.ke/ojs/index.php/ecajps/i