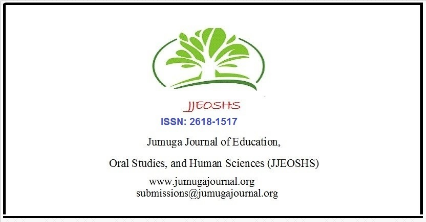 JJEOSHS is a publication of Jumuga Research Team, a group of scholars who first brainstormed on myriad of challenges and unresolved issues in the era of globalization. Is globalization ushering in a just society or a poorer world where huge gaping holes in all centers of human endeavors obtains? Have we lived up to the dictates of the 21st skills movement in education that calls for professional networking globally, originality in research, technology-driven researches, joint researches, and multidisciplinary academic discourses? Do we have enough resources to establish a credible international journal that has a global appeal? While financial resources remain elusive, we realized that we have plenty of human resources, specialists in Business, History, English language, Economic Management, Gender and Development, Political Science, Oral Literature, Literature, Theology, Philosophy, Sociology, Religion, Anthropology and Education Foundations.
In addressing the above questions since 2010, the members felt that financial resources need not impede a noble mission. As the Cuban revolutionalist (Fidel Castro, 1926-2016) once said, "I began revolution with 82 men. If I had to do it again, I do it with 10 or 15 and absolute faith. It does not matter how small you are if you have faith and plan of action." With faith, we dare let JJEOSHS speak to the world and attempt to offer solutions in our respective areas. Again, as the American business magnate (Bill Gates) once noted, "Great educators have always known that learning is not something that is limited to the classrooms, or that should be forcibly undertaken under the supervision of teachers." Through this forum of research and publication, especially online publication, we build a broad-based library of learning relevant matters facing our global community. It is in this space that we build an online classroom that is bringing like-minded people on board. It is in this forum that we are empowered to mentor one another through the medium of publication, and indeed appreciate that we can all be teachers, mentors, and coaches to one another. We realize the broad nature of education that surpasses the four corners of the classroom. Being in the age of technology, we attempt to make the best use of education; and indeed sharpen our brains through reading and critiquing the already published work. With a mere phone, iPad, laptop or a desk top we can now explore some of the best ideas that could otherwise be taken to the maker without having been read or heard anywhere. With this conviction, Jumuga Research Team were convinced that we too can make a difference just as those who were before us did; and hopefully surpass them courtesy of the new age of science and technology.
In so doing, we sought to be the proverbial Giraffe that saw the present and the future plus the inherent dangers of the jungle and chose to talk rather than keep the knowledge to itself. We chose to talk rather than merely watch the unfolding drama. Such insights resonate with the scriptural exhortation that says, "my people are destroyed for lack of knowledge" (Hosea 4:6). In borrowing the wisdom of the proverbial and far-sighted Giraffe, we felt that research and publication is the way to go. JJEOSHS is a by-product of this journal that begun as a mere brainstorming session during our leisure times. Certainly, even leisure session has far-reaching impacts on the life of an individual and the society.
JJEOSHS journal is attractive in appearance, published on time, delivers quality papers, open to all people across the globe, and encourages graduating post graduate scholars to publish with us. We encourage original researches from readers and researchers of all calibers of life, irrespective of their levels of education. We publish all quality papers brought to us, provided, they are of good standards. We encourage the marginalized groups in our global society to submit their researches, write-ups, articles, book reviews, and short messages as well. Such marginalized groups in society may include refugees, homeless people, vagabonds who are in their situations out of human error, women who feel messed up by patriarchy, evictees, and victims of war among others. Such can write papers on Education in marginalized areas, Survival in specific marginalized areas, Study of mathematics in a refugee camp, winning an electoral contest in a foreign land, business ventures in time of war, a case study on Jewish or African evictees, learning English in a non-English speaking countries, the challenge of terrorism in a particular city of the world, interracial marriage in the era of globalization, and strategies of overcoming prejudices in specific areas among other critical areas. Equally, affluent societies may provide researches that are relevant to our contemporary situations.