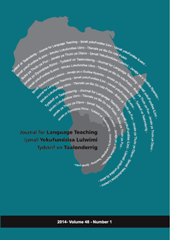 Journal for Language Teaching = Ijenali Yekufundzisa Lulwimi = Tydskrif vir Taalonderrig
The Journal for Language Teaching focuses on the publication of research in the domains of language teaching, applied language studies and language practice. The journal gives preference to the publication of research results with an empirical base (quantitative and/or qualitative).

Descriptions of language classroom interventions that do not adhere to conventional research practices, for example to include pre- and post-tests, or control of confounding variables, are typically not considered for publication in the Journal. Since the emphasis is on the analysis of teaching, assessment and other instructional practices, conceptual articles are published from time to time, but authors planning to submit conceptual work should approach the editor first to discuss the suitability of the planned article for the journal. The editor invites specific authors from time to time to prepare 'state of the art' reviews on relevant topics.
More information on the South African Association for Language Teaching can be found online here: http://www.saalt.org.za/
Journal Identifiers

eISSN: 0259-9570