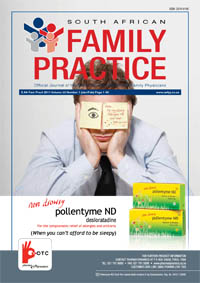 South African Family Practice
(SAFP) is a peer-reviewed scientific journal, which strives to provide primary care physicians and researchers with a broad range of scholarly work in the disciplines of Family Medicine, Primary Health Care, Rural Medicine, District Health and other related fields. SAFP publishes original research, clinical reviews, and pertinent commentary that advance the knowledge base of these disciplines. The content of SAFP is designed to reflect and support further development of the broad basis of these disciplines through original research and critical review of evidence in important clinical areas; as well as to provide practitioners with continuing professional development material.
(Note: In January 2003 South African Family Practice merged with Geneeskunde – The Medical Journal to form South African Family Practice incorporating Geneeskunde, and since January 2004 it is again only known as South African Family Practice (SAFP). As a result the numbering of the journal now begins from Volume 45 in 2003).

Other websites related to this journal: http://www.safpj.co.za
Journal Identifiers

eISSN: 2078-6204
print ISSN: 2078-6190